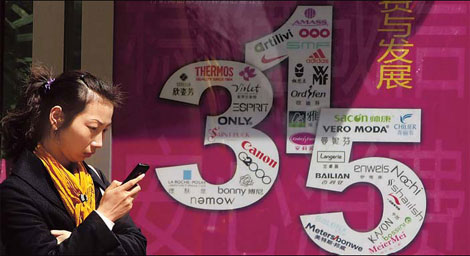 A woman stands before a billboard advertising the annual World Consumers Rights Day on March 15 together with dozens of international brands. More and more brands found the baby milk scandal in 2008 was a real wake-up call for Chinese consumers who are now prepared to be more assertive in protecting their rights and interests. An Xin/China Foto Press 
Foreign companies that do business in China can see their brand reputations collapse in ruins if they betray consumer trust, says a leading marketing expert.
Keh Hean Tat, professor of marketing at Guanghua School of Management at Peking University, says modern Chinese consumers can be very unforgiving.
"Companies can take years through investment and research and development to build their brands but they can be destroyed in an instant if some disaster happens, " he said.
As World Consumers Rights Day is marked today internationally, China has had its fair share of disasters affecting consumers in recent years.
After the tainted baby milk powder scandal centering on the now bankrupt Sanlu Group erupted in 2008, a number of other brands found they had to weather the storm.
At one point three-quarters of Chinese consumers questioned in a survey stopped buying Johnson & Johnson products after a US consumer group alleged that traces of carcinogens were found in certain of its products.
The Chinese government gave Johnson & Johnson, based in New Brunswick, New Jersey, the all-clear soon afterwards.
According to a survey published last week by the China Association for Quality Promotion, young Chinese consumers are prepared to be assertive.
Of more than 1,000 students surveyed, 38 percent would appeal to consumer rights institutions if they felt their consumer rights had been infringed and some 35.5 percent would go to the media.
Keh at the Guanghua School of Management said the baby milk scandal was a real wake-up call.
"A number of leading companies were also tainted to some extent by it. The challenge for companies was now to prove to Chinese consumers that their products were rigorously inspected and tested, " he said.
Mengniu, the largest dairy product supplier in China and now one of the world's top 20 dairy companies, places considerable emphasis on quality control.
Every pack of Mengniu milk goes through nine safety procedures, 36 monitoring points and 105 examining indicators.
Yang Wenjun, chief executive officer of Mengniu, said the company also placed considerable emphasis on research and development.
"We are constantly strengthening scientific research so we can provide a range of dairy and beverage products for different consumer needs and different age groups," he said.
Foreign companies wanting to get a slice of the 12.5 trillion yuan China retail market increasingly need to get into the mind of the Chinese consumer.
Thirty years ago when China opened up its markets, Chinese consumers would automatically assume foreign goods were better quality.
With Chinese companies such as electronics goods makers Haier and Galanz having dominant positions in the key electronic appliances sector, as just one example, this is clearly no longer the case.
"In the 1970s and 1980s, Chinese consumers were infatuated with foreign brands. The consumers are now more knowledgeable and sophisticated," added Keh.
For one of the longest established foreign multinationals in China, Procter & Gamble, focusing on Chinese consumers goes beyond just putting Chinese labels on the packaging.
It has recently redesigned its Pampers diapers since it discovered Chinese babies had on average 1 cm wider thighs than western ones since they use their legs more in the early stages of life.
Daniela Riccardi, president of Procter & Gamble China, said companies needed to have a real handle on the DNA of the Chinese consumer.
"We start from the consumer. The consumer is the boss. Each consumer has different aspirations and expectations for any products they use," she said.
"Of all the advertising, packaging, products and promotions we do, everything is centered around the very specific positioning of different consumers."
Don't be misleading
There are certainly penalties for misleading consumers.
The Taiwanese Tinghsin International Group, owner of the Master Kong brand, was in trouble last year after it was revealed through a rumor that spread on the Internet the main source for its bottled water was not a natural spring but came out of a tap.
The company later claimed the urban water supply was safer than natural water, the quality of which varied with the seasons and often contained hazardous microbes.
Joy Huang, research analyst at retail research company Euromonitor, based in Shanghai, said the problem for the company was not the safety of the product but its potentially misleading advertising.
She said soft drinks manufacturers were vulnerable to quality control issues since the majority of their consumers were young and likely to be influenced by netizen campaigns such as this one.
"If there is any issue with quality control, a rumor can spread very fast now and can do a lot of damage to a brand in a matter of hours," she said.
"It can be difficult for soft drinks manufacturers since they are under pressure to control costs but at the same time ensure quality control. The two can be contradictory and a compromise has to be reached," she said.
New strategies
Bernhard Hartmann, managing director at international management consultants A.T. Kearney China in Shanghai, said foreign companies were increasingly having to adapt their products to satisfy Chinese consumers.
He cited the example of Kraft, which brought its Oriel dark chocolate cookies, a leading brand internationally, to the country but found them not to Chinese tastes.
"They were too sweet and so they had to produce the cookie in a different form. It has become more of a wafer biscuit. Campbell soups also had to introduce more flavored broths to meet Chinese tastes," he said.
Related readings:


 Toyota chief says 'sorry' to Chinese consumers for recalls


 Toyota's recall may undermine Chinese consumers' trust


 Consumers' rights
"Car manufacturers here also have to pay attention to the leg room in the back of some of the models because many of the buyers have drivers and therefore sit in the rear themselves."
Hartmann said multinational companies have to be aware that Chinese consumers vary in different parts of the country.
"The idea that one product fits all will not fly here. You have only got to look at food and the different cuisines around the country," he said.
Keh at Guanghua School of Management said that it has never been more important for foreign companies to really focus on what Chinese consumers want.
"There is a lot of loyalty now to Chinese brands. Young consumers, if they can afford it, will buy Nike or Adidas. However, if they are on a budget, they would feel a sense of pride also in buying Chinese brands such as Li Ning or Anta," he said.