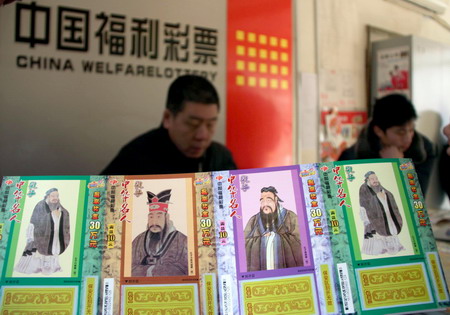 A salesman at a welfare lottery outlet in Liaocheng, Shandong province, holds lottery tickets that use the image and sermons of Confucius. [China Daily]
Confucius, the ancient Chinese philosopher who prodded his fellow countrymen to seek their fortunes in a decent manner, would now find his portraits and sermons printed on lottery tickets, the only form of gambling allowed by the government.
Late last month, lottery stands in east China's Shandong province began selling Confucius-themed tickets that carry a top prize of 300,000 yuan ($44,000).
But the tickets have drawn ire from netizens and columnists who claim that putting Confucius' image on lottery tickets has tarnished the image of the wise man who lived more than 2,000 years ago.
Lottery officials said they were surprised by the criticism.
"The center is not trying to influence the sale of their lotteries (by using Confucius' image)," Tang Nianbing, a manager from the Shandong's lottery center, said in an interview yesterday on the phone. He rejected accusations that Confucius' images were used to promote sales.
The center intended to promote culture instead, added Tang, although he admitted that would only be a secondary aim to raise welfare funds.
The Shandong area was home to Confucius in the Spring and Autumn Period, about 2,500 years ago.
Sales of the 10-yuan-per-ticket lottery have remained lukewarm compared to that of prior lotteries after release, with more than 2 million yuan worth of tickets sold in the first week.
"It (the Confucius lottery) accounted for about one-tenth of total sales of all lotteries in the week," said Tang.
Newly released lotteries often sell better than existing ones, but after a while their sales typically fall.
However, even big figures like Confucius cannot crank out more lucky dogs among lottery buyers in Shandong. As of yesterday, only one second prize of 30,000 yuan had been awarded, according to Tang.
Related readings:


 Leave Confucius alone


 China's lotteries sold more than 75B yuan in tickets


 No lottery tickets, no welfare funds


 Masked man collects 360m yuan lottery jackpot
Several versions of tickets from the lottery center of Shandong are printed with the region's characteristics, according to articles posted on the center's official website.
It has issued lottery tickets featuring kites made in Weifang city, characters in the novel of Shuihu and ancient vehicles excavated in the province.
"The Confucius-themed lotteries are the country's most real culture-centered tickets," wrote Tang in an article before the introduction of the lottery. "Its cultural content will erect a milestone in the development of our country's lotteries."
In the interview with China Daily, he shrugged off criticism from outside the province, saying the use of Confucius' image is no different from any other cultural-themed tickets, such as novel characters and antiquities.
"Fundamentally, it's just the same," he added.