Individual Chinese investors have triggered a new gold rush - but their assets do not glitter like those of the 19th century Klondike pioneers.
Many of the investors are opening special accounts and buying "paper" gold, never seeing the precious metal to which they own the rights.
An online survey of more than 60,000 people conducted by the Shanghai Gold Exchange (SGE) showed that paper gold, with 37.5 percent votes, ranked above standard bullion and gold bars as the preferred means of investing in the commodity.
Paper gold trading is only recorded on bank accounts. There is no need for physical delivery. It is more popular because of its convenience and low costs compared with physical trading.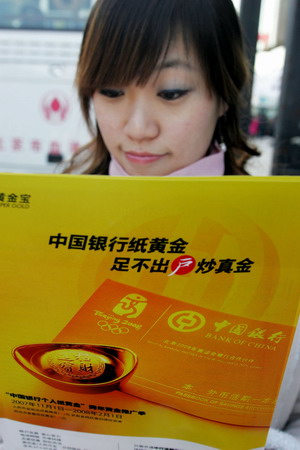 A customer in Beijing looks at promotional material for paper gold products. In a recent SGE survey, paper gold was ranked as the prefered means of investing in the commodity.[China Daily]
The number of inquiries for opening a yellow metal trading account has risen dramatically recently and it is one of the most frequently consulted banking services.
The price of bullion gained more than one third in 2009 driven by a weaker dollar. The glittering metal has also lured investors from savings accounts, stocks and real estate.
Boosted by a record high price, China saw an active trading year in 2009. Gold weighing 4,710.82 tons was traded on the SGE, while 6,812,500 gold future contracts were closed on the Shanghai Futures Exchange (SHFE). Prices have lingered at around $1,100 an ounce since November.
According to statistics from China Gold Association (CGA), the nation mined and refined 314 tons of gold last year. About 500 tons was used for jewelry and bullion investment.
UK-based precious metals consultancy GFMS Ltd reported that China overtook India for the first time as the world's biggest gold consumer in 2009.
It said the Chinese seemed to be less sensitive to the high prices and bought 315 tons of gold in the first three quarters of 2009, about one fifth higher than Indians, who have long held a passion for the metal and jewelry made from it.
Chinese people also like jewelry but see gold more as an investment.
"With household incomes increasing, Chinese consumers are buying more jewelry and investing in gold assets," said Zhang Bingnan, general secretary of CGA.
Xu Hanjing, managing director of Eldorado Gold Corporation (China), said the high prices are often driven by investors. "The dollar is weak, stocks and real estate have bubbles. Gold is not perfect but it seems to be the last resort," he said.
Experts warn that gold trading requires international economic knowledge and financial skills but individual investors may not be well prepared.
Related readings:


 China's gold output grows 11% in 2009


 All that glitters may not be a good hedge


 China National Gold's gold reserve tops 1,200 tons


 Beijingers in gold rush at year end
Liu Xu, an analyst at China International Futures, said that both spot and future prices are closely tied to the global economy and the performance of the US dollar.
"In the long run, I am optimistic because it is a liquid asset, but in the short term, gold may not gain as the dollar rallies," said Liu.
Wu, a retired man in his 60s, said he would exchange a remittance from his son in the US for gold. He believes its value will not fall and it is safer than cash.
Young IT engineer Liu wants to win big money from her gold investment. She plans to make a big investment so even a small margin would produce good yields. "It is risky but the return is potentially high," she said.