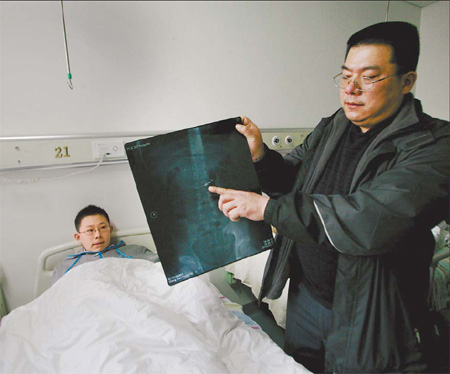 Wang Yijun displays an X-ray of his son Wang Haoyong, who was allegedly poisoned after drinking a bottle of Sprite. [China Daily]
A middle-school student has become the second person in Beijing to get mercury poisoning after drinking a can of Sprite in less than three months.
A 13-year-old Beijing student named Wang Haoyong was sent to the 307 PLA Hospital on Jan 17 for mercury poisoning after consuming the beverage.
Wang is currently in a stable condition, but will have to stay in the hospital for further treatment until his blood's mercury level drops to 2.5 percent ng/ml. The latest test puts it at 3.6 percent ng/ml.
Wang said that he bought a can of Sprite in a supermarket near his school in Tongzhou district.
"It felt like jelly when I drank it. One hour later, I started to have headaches and felt dizzy," he said.
After observing the illness, Wang's father ran a quick test.
"I checked the remaining Sprite in a transparent bottle and found something about the size of a soybean. It looked like mercury, so I sent my son to hospital as quickly as possible, " Wang Yijun, the patient's father, told METRO yesterday.
The father said his son is in a stable condition but he has lost 5kg from the treatment, and faces the potential aftereffects of europsychiatric diseases and kidney problems.
"My son is better now, but I feel it's my responsibility to draw public attention to this case. With the Spring Festival coming, families might select soft drinks to celebrate with and I don't want this tragedy to happen again," he added.
Wang believed that the second case of Sprite mercury poisoning proves there is a problem.
The first case took place on Nov 7, 2009. Ma Sai, a 21-year-old man, ordered a can of Sprite in a restaurant in Xidan in Beijing. Several minutes later, Ma started vomiting and was diagnosed with mercury poisoning later in hospital.
"He finished his treatment in hospital in early December but we cannot say he is fully recovered since he still has 1.8 ml of mercury in his blood," Li Hongsheng, Ma's relative, told METRO yesterday.
Related readings:


 Teen hospitalized in alleged Sprite poisoning


 Man claims Sprite poisons


 Student road show raps Coca Cola labor malpractice


 Coca-Cola issues new hydration drink
Both families claim that when the Sprites were opened, they were full of carbon dioxide.
They have stated it is impossible that someone could have injected mercury into the cans, since there were no holes.
However, the factory said there is no procedure containing mercury in their production lines, insisting the two poisonings were "individual cases".
Chen Yi, a public relations manager from Coca-Cola Beijing Company, said all the production procedures and materials they use are mercury-free.
"We believe someone did that on purpose after our products went into the market," Chen said.