The world's largest free-trade area (FTA) came into being on Friday, an initiative that analysts said gives a shot in the arm for global trade troubled by rising protectionism.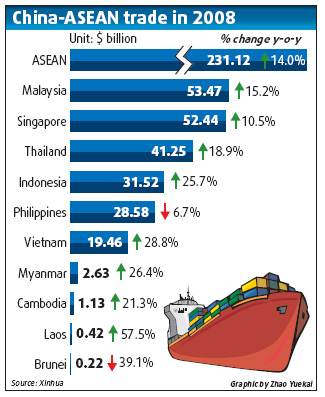 From Friday, most goods traded between China and the 10-member Association of Southeast Asian Nations (ASEAN) attracted zero or little tariff.
The average tariff on goods from ASEAN countries is cut to 0.1 percent from 9.8 percent. The six original ASEAN members - Brunei, Indonesia, Malaysia, the Philippines, Singapore and Thailand - will slash the average tariffs on Chinese goods from 12.8 percent to 0.6 percent.
By 2015, 90 percent of goods are expected to flow without tariffs between China and the four new ASEAN members: Cambodia, Laos, Myanmar and Vietnam.
Border traders were happy with the launch of the FTA, the world's largest in terms of population, 1.9 billion, and third largest by GDP, trailing the European Union and the North American Free Trade Area.
Dozens of trucks, mostly carrying dragonfruit from Vietnam, were waiting to be unloaded Friday morning at the Tianyuan Fruit Trade Market, one of China's largest markets for fruit imports, at Pingxiang Customs point in the Guangxi Zhuang autonomous region.
"The establishment of the free trade area is really good news," said Liu Yuzhen, who has been trading fruits for 16 years.
She sells more than 10 tons of apples, pears, oranges and other fruits to Southeast Asia everyday, and hopes her business will expand as the FTA will facilitate Customs clearance and reduce logistics costs.
Business leaders said the FTA would definitely liberalize trade.
"This will enable trade to flow more freely between China and ASEAN, it is a very good thing," said Chan Sophal, president of the Cambodian Economic Association.
He said the FTA would also create more opportunities for ASEAN countries to increase regional trade.
"Cambodia can produce more products and export more to China's market," he said.
Experts have predicted the removal of trade duties will prompt China-ASEAN trade to grow 40 to 50 percent.
Trade between China and ASEAN declined 16.7 percent year-on-year to hit $165.7 billion in the first 10 months last year, according to the Ministry of Commerce.
An ASEAN leader said the FTA is beneficial to all.
"We sincerely hope that all parties will act to ensure that the man on the street will benefit from these reductions in tariffs," ASEAN secretary-General Surin Pitsuwan said on ASEAN's website on Thursday.
He added that the lower cost of inputs will allow the business community a wider choice of goods, and in the process, they will move toward becoming more globally competitive.
Beijing-based analysts said the FTA signals China's commitment to free trade although it has fallen victim to a rising number of protectionist measures taken by developed countries.
"China's efforts to establish the FTA is aimed at not only expanding overseas markets, but also promoting trade and investment liberalization, especially amid global trade protectionism," said Zhang Monan, an economist with the State Information Center.
Related readings:


 China-ASEAN FTA pact set to boost trade volume


 China-ASEAN free trade area starts operation


 ASEAN-China FTA makes Vietnam-China trade easier and better


 ASEAN chief warns FTA governments against protectionism
The FTA - which follows similar trade links established between ASEAN and Japan and South Korea - "gives new vim" to world trade at a time when multinational trade talks are stalled, said Fan Ying, a professor at China Foreign Affairs University.
"The move shows China is willing to open its market although it is a victim of rising trade protection measures," she said. "The FTA will help economies recover from the financial crisis."
Deputy Commerce Minister Zhong Shan said last week that other countries launched more than 100 trade cases against China, affecting $12 billion of Chinese exports, last year. Both figures were double the figure from a year earlier.
With the FTA in place, Zhang expects economic integration between China and ASEAN to be strengthened.
She also said she hoped the Chinese currency, the yuan, can be more widely used in Southeast Asia.