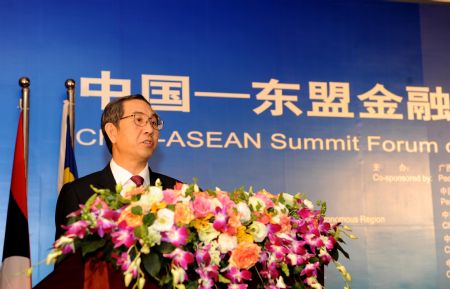 Ma Biao, chairman of the Guangxi Zhuang autonomous region, addresses the China-ASEAN Summit Forum on Financial Cooperation and Development in Nanning, capital of southwest China's Guangxi Zhuang autonomous region, Oct 20, 2009. [Xinhua]
Heads of Chinese financial institutions vowed Tuesday to step up financial cooperation with members of the Association of Southeast Asian Nations (ASEAN) as the China-ASEAN Free Trade Area heads for operation in 2010.
"There is huge potential for financial cooperation between China and ASEAN as the two sides record fast development in the financial sector and their financial ties are inadequate to keep up with their trade exchanges," Su Ning, vice governor of China's central bank, said at a forum, part of the 6th China-ASEAN Expo held from Oct 20 to 24 in Nanning, capital of Guangxi Zhuang autonomous region.
"There are also challenges ahead, and the central bank will step up talks with central banks of the ASEAN member states to develop a stable and flexible mechanism for financial cooperation," he said.
China would "gradually" open the country's financial market and develop favorable environment for financial institutions from ASEAN to set up branches in China or take stakes in Chinese financial institutions, he said.
Li Ruogu, chairman of the Export-Import Bank of China, expected countries in the region to further open financial and capital markets, ease limits on market entry in financial sector, develop new financial products, and push forward settlement cooperation toreduce dependence on the US dollar.
In July of this year, China implemented pilot scheme for cross-border RMB trade settlement in Shanghai. Currently, China has sealed cooperation agreements of bilateral trade settlement with the central banks of Laos and Vietnam in ASEAN.
Related readings:


 ASEAN optimistic on trade with China


 China-ASEAN Expo to open in S China, embracing upcoming FTA

 On the road to develpoment with ASEAN


 China, ASEAN sign agreement on investment
Heads of other commercial banks present at the forum, including Bank of Communications, China Merchants Bank, also pledged more cooperation with their counterparts in ASEAN member states.
H.E. Phouphet Khamphounvong, governor of the Bank of Laos, said Lao government had been aware of the benefits from open financial markets and financial cooperation as its central bank had signed cooperation pacts with China's central bank and China Development Bank.
Laos would further incorporate into the regional cooperation, he said.
The forum was held at a time when nations were pushing forward a reform on the world financial system as the financial crisis originated in the United States dragged the world economy into recession.
Xiao Gang, chairman of Bank of China, said China and ASEAN should strengthen financial cooperation, which is an important force to weather the global economic downturn and help stabilize the world economy.
Lessons from the 1997 Asian financial crisis and the 2008 global financial crisis showed no single economy but the collaboration of nations was able to rein in the spread of crisis, he said.