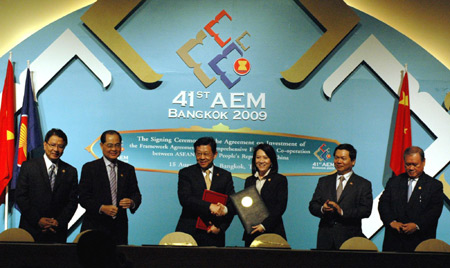 China's Commerce Minister Chen Deming (3rd L) shakes hands with Pornthiva Nakasai (3rd R) as they signed an investment pact representing China and the ASEAN in Bangkok, Thailand, August 15, 2009. [Xinhua]
BANGKOK: China and the Association of South East Asian Nations (ASEAN) took a major step on Saturday to broaden economic cooperation by signing an agreement to promote investment.
The investment pact is the third free-trade agreement concluded between China and the 10-member Asian regional group following separate FTAs on trade in goods that took effect from mid-2005, and on services two years later.
China is the eighth biggest investor in ASEAN with outstanding two-way investment totalling US$11.7 billion at the end of 2008.
Related readings:


 Free trade to lift ASEAN+6 GDP by 1.3 pct


 China-ASEAN Investment Agreement signed


 China, ASEAN to have full FTA by 2010

 China-ASEAN free trade area to be completed on schedule


 Fourth China-ASEAN FTA forum held in Yantai
ASEAN groups include Brunei, Indonesia, Malaysia, the Philippines, Singapore, Thailand, Vietnam, Myanmar, Laos, and Cambodia.
The investment FTA calls for host countries to provide protection for foreign direct and portfolio investments, and compensation against damages caused by riots and political disturbances. It also eases restrictions on equity ownership and land acquisition.
The pact, signed by Chinese Commerce Minister Chen Deming and his ASEAN counterparts, requires their governments to facilitate speedy settlement of business and labour disputes, and repatriation of corporate earnings.
Chinese investment in ASEAN has jumped in recent years. In late July, about 300 Chinese businessmen, attending a seminar at the Thai resort of Pattaya, signed deals committing about US$590 million of investment in industrial property in Thailand.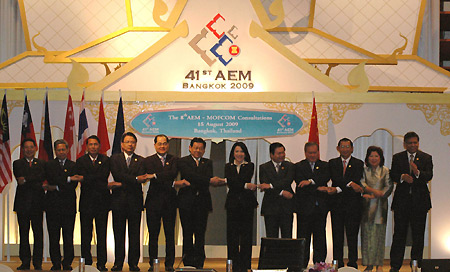 The ministers of ASEAN members pose for a family photo with China's Commerce Minister Chen Deming (6th L) and the ASEAN Secretary-General Surin Pitsuwan (R) during the 41st ASEAN Economic Ministers Meeting in Bangkok, August 15, 2009. [Xinhua]
In April, Chinese Premier Wen Jiabao announced China was setting up a US$10 billion China-ASEAN Fund on Investment Cooperation to support infrastructural development in the region.
China is ASEAN's fourth-largest trading partner, with bilateral trade rising to about US$231 billion in 2008, up 14 percent from a year earlier.
With most Western economies facing a severe downturn since 2008 due to the global financial crisis, China has this year emerged as the biggest buyer of products from ASEAN members such as Thailand.