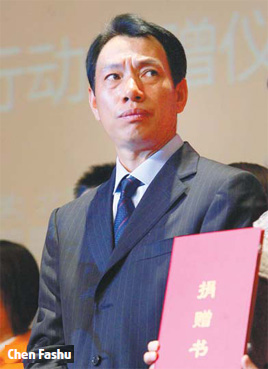 Chen Fashu, regarded by many as China's Warren Buffett, yesterday announced that he would donate 45 percent of his personal assets, worth 8.3 billion yuan ($1.17 billion), to set up a charity modeled on the lines of the Bill and Melinda Gates Foundation.
The Newhuadu Philanthropic Foundation, once set up, is expected to be the largest civil charity foundation ever established in the country.
Chen, 48, a Fujian-born businessman who made his first million by selling groceries in his hometown during the 80s, later became a billionaire by investing in stocks on the A and H share markets.
He is currently the president of Fuzhou-based Newhuadu Industrial Group, and is ranked No 15 on Hurun's latest rich list with a personal wealth of 25 billion yuan.
The assets to be transferred to the charity will mainly include stakes that Chen owns in publicly traded companies such as Tsingtao Beer, Yunnan Baiyao Group, and some stock from his own Newhuadu Industrial Group. These will altogether account for 45 percent of his total assets according to current market value, Chen said at a media briefing in Beijing yesterday.
Chen will be the chairman, while Tang Jun, the president and CEO of Newhuadu Industrial Group, will be the managing director of the foundation.
"The charity will be modeled on the Bill & Melinda Gates Foundation. An independent team will be in charge of the operation of the foundation," Tang said. It may later seek a management tie-up with the Bill & Melinda Gates Foundation, he said.
The first batch of funding from the foundation, worth 10 million yuan, was donated to primary schools in poverty-stricken areas and poor university students yesterday.
Chen's fortune comes mainly from the Fujian-based Zijin Mining, a leading gold miner in China. His wealth expanded from 48 million yuan to 20 billion yuan when the gold mining company went public on the Shanghai bourse in 2008 and later at Hong Kong in 2009.
Chen was the second largest stakeholder of Zijin Mining before he sold around 50 percent of his holdings between May and July to buy H shares of Tsingtao Brewery Co Ltd. He is now the second largest shareholder of Shanghai-listed Yunnan Baiyao Group and the third largest shareholder of Hong Kong-listed Tsingtao Brewery Co Ltd.
However, the sale of Zijin Mining shares allegedly thrust Chen into a "tax evasion" scandal. The Beijing-based Securities Daily reported in September that the State Administration of Taxation was investigating Chen and his company for tax fraud in the Zijin Mining share sale. The report said that Chen had sold around 3 billion yuan worth of Zijin Mining shares, for which he would have to pay at least 1 billion yuan in taxes.
Individual investors who trade shares on the stock market do not pay capital investment income tax in China currently. However, experts, including Sun Gang, a researcher from the Research Institute for Fiscal Science, and Zhang Bing, a researcher from the Chinese Academy of Social Sciences, both said that individual investors who sell shares they bought before the companies went public should pay tax.
"But currently, there is no specific regulation on such taxation in China," Zhang said.
Related readings:


 Chinese tycoon's charity foundation focuses on education


 Huiyuan joins One Foundation as a partner in education efforts


 Yao Ming Foundation to help rebuild schools in Sichuan


 With Jet Li-One Foundation charity
Chen's setting up of the Newhuadu Philanthropic Foundation was widely speculated as a measure to save himself from the tax fraud accusation.
Chen, however, said yesterday that he had been toying with the idea for two years and had spent over a year to set it up. The Ministry of Civil Affairs approved the foundation on Sept 30, Chen said.
Chen has not been the first billionaire to initiate a philanthropic foundation in China. Cao Dewang, chairman of another Fujian-based company Fuyao Group, said earlier that he planned to donate 70 percent of shares his family owns in the company to set up a 4-billion yuan foundation. However, Cao later gave up on the idea, as regulations do not permit a major shareholder of a company from transferring his shares.