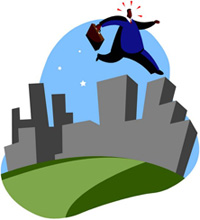 China's rapid economic expansion over the past decade turned the country into the place to be for multinational companies. To accommodate the influx of international businesses, developers took out loans, land was cleared and construction sites and cranes dotted the skyline of every major city.
It wasn't only the supply of high-end office buildings in prime business locations (Class A) and lower-end office buildings (Class B) that boomed. More and more shopping malls -- a relatively new concept in the country -- sprung up, replacing department stores in cities.
But when the financial crisis hit, many multinationals pulled their offices and employees out of China or moved to less expensive spaces, while the hordes of shoppers that retailers were expecting to flood the malls tightened their purse strings. Now, major cities throughout the country are home to empty skyscrapers and shopping malls that are virtually empty, apart from store clerks and security guards. Meanwhile, construction continues. How did this scenario evolve, and what are the commercial real estate industry's prospects?
Beijing and beyond
How much space is vacant is a matter of debate. Shirley Hu of real estate broker CB Richard Ellis predicts that by 2010, the supply of commercial office space will increase in Beijing by roughly 1.5 million sq m (16 million square feet) and in Shanghai by 1.9 million sq m (20 million square feet), driving up vacancy rates to approximately 30 percent.
But vacancy rates in commercial real estate may be as high as 50 percent, says Jack Rodman, President of Global Distressed Solutions LLC based in Beijing, and Senior Advisor at Crosswater Realty Advisors, a Los Angeles-based real estate advisor firm serving institutional investors. According to Rodman, "if a building can be brought to market in six months, then it's better to include it in the supply."
The supply of Class A commercial office buildings in Beijing over the past two years increased an estimated 5.6 million sq m (60 million square feet), Rodman points out. The supply of Class B or buildings that will be sold to investors could add another 3.7 million sq m (40 million square feet), he says, noting this excludes government buildings, such as the new CCTV tower in Beijing, and buildings being built by financial services and oil companies for their own use.
Related readings:


 Asians on big city real estate buy spree


 Commercial real estate could be next economic threat


 Reality of the real estate market is really bitter

The amount of space wasn't as worrisome during the boom years, between 2003 and 2007, when demand drove up the average annual absorption rate to roughly 465,000 sq m a year. China was hot, and everyone wanted in -- from international investment banks and law firms to accounting firms and real estate brokerages. "But for the last two years, you haven't had any of that," says Rodman. "I don't think there's been much net absorption at all. I believe there's a very large and very real problem here."
And it isn't limited to Beijing, he adds. "Shanghai's office market is as bad as this."
Other cities are also struggling with high vacancy rates in commercial real estate that mirror those in the capital and financial center. "Hangzhou definitely has an oversupply of commercial property," says Wu Weiming, CEO of a commercial property developer in that city.
It's not just commercial office space that is sitting empty. In Beijing, the shiny new shopping malls have occupancy rates of roughly 60 percent, compared with between 70 percent and 80 percent in previous years, says Wendy Zha, retail real estate sales representative at CB Richard Ellis in the capital. The overall retail market vacancy rate is between 30 percent and 40 percent, she notes.
The oversupply of retail space is most pronounced in Beijing, where developers rushed to complete large shopping complexes before last year's Olympic Games, says James Macdonald, senior manager and head of China research at Savills China, a branch of the London Stock Exchange-listed real estate service provider. "But supply (in Shanghai) may increase over the next six months in preparation for the next year's World Expo." In the meantime, Shanghai's retail market is still relatively healthy with a city-wide vacancy rate of prime retail space of 3.3 percent, he says.