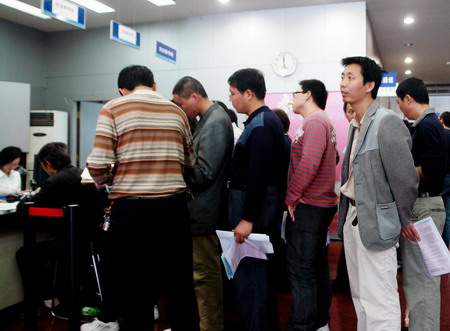 Rules regarding the IPOs of overseas firms on the Shanghai bourse are likely to be released soon.[China Daily]
Investment banks, securities brokerages and law firms are actively preparing to assist multinational companies to list on the proposed Shanghai international board although the timing of the bourse's launch has yet to be announced.
"In the past few months, some foreign companies have sought our advice regarding listing on China's A-share market," said David Li, chairman and national head of UBS AG China. "There have been discussions of the process since as early as 2006 and we have recently noticed an acceleration in the process."
According to Li, foreign companies that are keen to list on the international board are usually those that have a strong presence in China and which think the renminbi will become a key global currency going forward.
"The regulators are endeavoring to make China's A-share market internationally competitive. Inviting foreign companies to list on it is an important step toward achieving that goal," Li added.
According to a recent report by UBS, potential candidates for an A-share initial public offering (IPO) include HSBC, Bank of East Asia, Coca-Cola, Wal-Mart Stores, General Electric (GE), Unilever and Carrefour, as well as domestic red chips and H-share companies such as China Mobile, CNOOC and Lenovo.
Brokerage house CLSA's Chairman Jonathan Slone said at a recent forum that its clients, such as GE and Brazil-based iron ore producer Vale SA, have expressed interest in listing on the international board in Shanghai.
HSBC Holdings Plc, Europe's biggest bank, has hired advisors for a possible listing in Shanghai, spokesman David Hall said last month. China International Capital Corp (CICC) and CITIC Securities Co have been confirmed as its financial advisors for the process.
Media in Hong Kong reported that CNOOC had hired CICC, CITIC Securities and Goldman Sachs as underwriters.
China Mobile Ltd, the world's biggest phone company by market value, has begun working on listing its shares in the domestic market, Chairman and Chief Executive Officer Wang Jianzhou said at the World Economic Forum meeting in Dalian earlier in September.
"Obviously, Shanghai IPOs of foreign companies and red chips/H shares (if approved) will provide law, accounting and securities firms with ample business opportunities and new revenue streams in the future," said Hubert Tse, managing director and head of the international business group at Shanghai-based Yuan Tai PRC Attorneys.
Industry experts said law firms and, in particular, securities firms, including joint venture securities companies such as UBS-Beijing Securities, Goldman Gaohua, CLSA and others that seek closer relationships with the US and European firms looking to list in China, will compete vigorously for the listing of these global companies on the Shanghai international board.
"I am working with a number of clients right now on this listing plan. We might see companies such as China Mobile and Lenovo coming back earlier than the foreign companies," Tse said.
In his opinion, foreign companies, which are leaders in their industry such as HSBC, Coca-Cola and Wal-Mart, would lead the listings chart in Shanghai.
"This would attract the world's attention and will set the stage for other global companies to list in Shanghai. This is vital for the success of the international board," Tse said.
Fang Xinghai, director-general of the Shanghai Financial Services Office, said at the Summer Davos forum in Dalian that one or two foreign companies might get listed on the international board in Shanghai at the beginning of 2010.
"There will be many complex regulatory issues for companies which already have multiple listings in overseas markets to go public in Shanghai as a whole group. So it is most likely and probably makes more sense for the China arms of these companies to list in Shanghai instead of the whole group," Tse added.
The relevant regulations in connection with the IPOs are likely to be released after the National Day celebrations. However, a recent report from Caijing online said the regulations would not be in place until the end of this year.
"Some details still need to be addressed. To simplify the listing procedures, the financial reporting might be based on International Financial Reporting Standards (IFRS) with an additional reconciliation report based on China's accounting standards," Caijing online reported, citing an unnamed source.