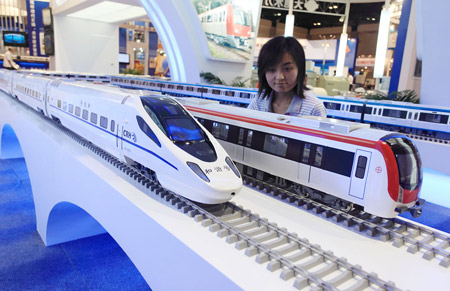 A woman looks at the train model developed by CNR at an exhibition in Beijing. [CFP]
China CNR Corporation Limited, one of the country's top two train makers, has got the regulatory approval to proceed with its initial public offering (IPO) in Shanghai, the securities regulator said in a statement posted on its website late Friday.
China Securities Regulatory Commission, the nation's stock regulator, reviewed CNR's IPO application Friday.
CNR had posted the approval on its website, and calls to the company rang unanswered Saturday.
According to its IPO prospectus, the company plans to issue no more than three billion A shares on the Shanghai bourse to fund projects worth 6.436 billion yuan ($942 million).
The Beijing-based train maker said it would use the money mainly to upgrade technology for train making, including high-speed trains.
The company said capital gathered through the IPO will account for no more than 34.09 percent of CNR's total capital, and any proceeds exceeding the 6.436 billion will be used as working capital.
CNR and its rival China South Locomotive & Rolling Stock Corp (CSR), which is listed both in Shanghai and Hong Kong, are the two major train makers in China, taking up a combined more than 95 percent of the domestic market.
CNR has hired China International Capital Corp (CICC), Huatai Securities and Huarong Securities as underwriters for its Shanghai IPO.
CNR reported a net profit of 383.75 million yuan in the first half of the year, up 43.52 percent from a year ago.