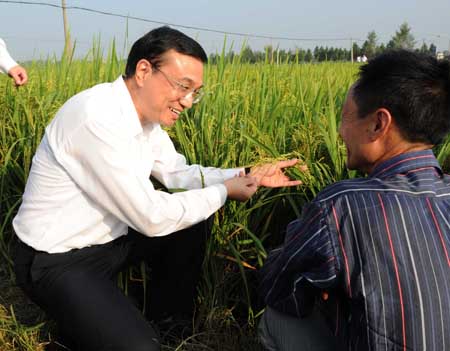 Chinese Vice Premier Li Keqiang (L) talks with a farmer in Taihe County, east China's Jiangxi province, Sept 24, 2009. Li made a inspection and research tour to east China's Jiangxi province from Sept 24 to 26.[Xinhua]
Local governments should lay stress on economy restructuring and innovation to guarantee the long-term stable and relatively fast economic growth, said Li Keqiang, Chinese vice premier.
Li made the remarks in his recent inspection and research trip to central China's Jiangxi province from September 24 to 26.
"The world economy is undergoing profound changes and transition. We should base ourselves on the current realities and be more forward-looking and broad-minded," He said.
Li added that China should push forward the deepening of reforms and strategic economy restructuring while maintaining the relatively fast economic growth.
Related readings:


 China to continue economic, financial restructuring: officials


 Restructuring to help enhance key industries


 V. Premier urges economic restructuring in NE China

 China stresses economic restructuring in promoting growth

China's economy expanded by 7.9 percent from a year ago in the second quarter this year, faster than the 6.1 percent in the first quarter, which was the worst quarterly growth in a decade, dampened by a slump in exports.
Li urged provinces in the central region to give a full play to their growth potential and advantages, take on the development opportunities of strategic importance, improve the quality of economic growth and achieve remarkable economic progress through reforms, innovation and industrial upgrading.
Central China provinces should endeavor to achieve remarkable economic advancement by 2015, according to a plan passed Wednesday by the State Council, the Cabinet.
The central areas include Shanxi, Anhui, Jiangxi, Henan, Hubei and Hunan provinces.