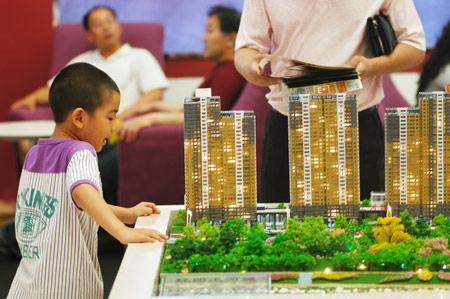 Urban residents still have a strong desire to buy homes though the price is high. [China Daily]
The skyrocketing prices of homes have turned nearly two-thirds of urban dwellers away from the housing market, even as residents' eagerness to buy homes was still on the rise, a recent survey released by the People's Bank of China has showed.
In its third quarter survey, more than 65 percent of urban residents from 50 cities felt housing prices were "high and unacceptable", up 2.8 percent from the second quarter. Referring to the housing price trend in the fourth quarter, more than 41 percent of residents forecast it would rise further.
However, respondents' willingness to buy houses and cars were buoyant, at 17.1 percent and 12.8 percent respectively, up 1.3 percent and 0.6 percent compared to the previous quarter.
"I spend more than half of my salary on the mortgage every month," said Wang Ke, sales manager at a Beijing-based IT company, calling himself "a housing slave".
"I earn 8,000 yuan per month, which is above average in Beijing, but I feel I have been living a low-quality life since I bought the apartment. I have even cut down on dining out."
He coughed up 1.2 million yuan for a 70-sq-m apartment in Beijing within the fourth ring road by borrowing the down payment from his parents and paying the rest of the 20-year loan in equal monthly installments of 4,500 yuan.
Wang's predicament is not restricted to residents in top-tier cities like Beijing and Shanghai alone, but exists in other Chinese cities as well.
Residential housing prices in Beijing and Shanghai have risen fourfold in the past five years while in some third- or fourth-tier cities, prices have nearly doubled.
Analysts said property prices would remain stable in the fourth quarter and housing transactions would also pick up.
Considering that the economic recovery has not been stable, the central government will not promulgate tight money policies, which will be beneficial for the development of property sector, analysts said.
And the property sector's supply falling short of demand will not change in the short term, as many property developers shrunk construction plans last year due to the economic downturn. These factors point to the property sector's booming trend in the fourth quarter, according to Century Securities.