The decision by the Obama administration to impose tariff on tires imports from China will be a huge blow to the Chinese tire producers and Chinese government should take strong countermeasures against exports from the US, according to an industry official.
President Obama "signed a determination to apply an increased duty to all imports of passenger vehicle and light truck tires from China for a period of three years," the White House said in a statement on Friday. In addition to the existing duties of four percent, tariffs will surge by a further 35 percent in the first year, 30 percent in the second and 25 percent in the third. The tariffs will take effect in any day before Sept 26.
"The new tariff will be highly damaging to China's tire industry," said Fan Rende, chairman of China Rubber Industry Association, adding that Chinese tire companies may not be able to export tires to the US due to the unreasonably high tariff of 35 percent starting from next year.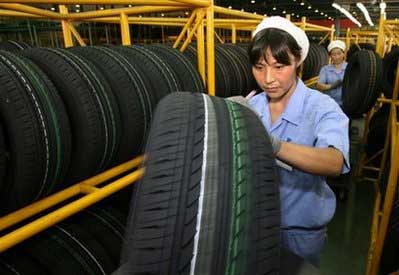 File photo shows workers from the Hangzhou Zhongce rubber company conducting quality control checks on their tyres at their factory in Hangzhou. [Agencies] 
"Obama's decision may affect the employment of 100,000 tire workers in China and may bring an aggregated loss of $1 billion to China's tire exporters," Fan said.
There are currently twenty tire producers in China and four of them are from the US. He did not reveal the names of the four producers, but currently US tire manufacturers, such as Bridgestone/Firestone, Goodyear, Michelin and Cooper have operations in China.
Actually, US had already ordered Chinese tire companies to stop supplying tires to the US, Fan said. "The effect is revealed immediately," he said.
Fan urged Chinese government to take countermeasures against US tariffs, especially on US' exports of agricultural products and cars to China. "I believe we could find ample cases that is also in line with the WTO rules," he said.
China Rubber Industry Association, China Chamber of Commerce of Metals, Minerals and Chemicals Importers and Exporters as well as some affected companies had already filed a complaint letter to President Obama. In addition, they are considering seeking justice from the United States Court of International Trade, according to Fan.
China's tire industry is greatly affected and may take a long time to adjust to the tariff, Fan said.
Related readings:


Tariff decision comes at huge price


US tire tariff is protectionism


Major trade test ahead for Obama

China against US climate tariff plan

China sets fertilizer import tariff quota


China to keep general tariff level at 9.8% in 2009
By losing a huge market for China's tire exports, China would start adjusting its international market strategy, shifting from its focus on the US market to ASEAN countries, Africa, East Europe, Middle East and South East Asia, Fan said, admitting that it will be a difficult transition and may incur more trade conflicts. In addition, some focus may be shifted to the domestic market. "It is really difficult to adjust, as one third of our tire exports were for the US market," Fan said.
China may be able to adjust after the tax is imposed for a year, and some may start to export to US after one year when the tariff is lowered to 30 percent, Fan said. "Even by then some 50,000 to 60,000 Chinese workers will be unemployed," he said.
"We will keep fighting against this unfair rule," Fan said.