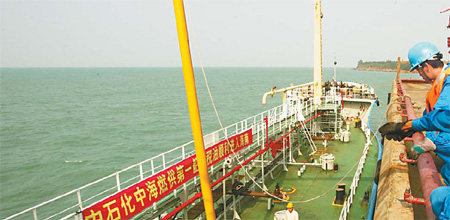 The offshore block has geological gas reserves of 13 trillion cubic feet.[CFP]
Mainland's second largest oil company, Sinopec Group, yesterday said it had agreed with Taiwanese oil producer CPC Corp to jointly explore an offshore block off northern Australia, the second cooperation deal between the two companies.
Under the agreement, CPC will buy a 40-percent stake in Sinopec's NT/P76 offshore block, Sinopec said in a statement yesterday. It gave no financial details.
The block, which is located in the Bonaparte basin about 330 kilometers from Darwin city, has geological gas reserves of 13 trillion cubic feet, said the statement. It has a water depth of 80 to 530 meters.
Sinopec first cooperated with CPC in 2004, when the two companies jointly explored a block in Australia named AC/P21. The area was operated by Italy's biggest oil company Eni SpA, said the statement.
With around 15,000 employees, CPC Corp forms the core of Taiwan's petrochemical industry.
A Sinopec spokesman yesterday declined to make further comments on the deal. The two companies have yet to discuss details of their cooperation, Lin Maw-wen, the Taiwanese company's vice-president, said yesterday.
Related readings:


 Sinopec's bid for Addax gets nod


 China's Sinopec reports 1.82% rise in refining in H1


 CNOOC, Sinopec to buy Angola oil stake


 Sinopec, Sabic venture gets nod

China National Offshore oil Corp (CNOOC), a leading offshore oil and gas producer, earlier said it had signed four oil exploration agreements with CPC Corp.
The agreements included a letter of intent for closer cooperation, a revised contract on joint exploration in the Tainan Basin and the Chaozhou-Shantou Basin off Guangdong coast, joint study on the Wuqiuyu Basin off Fujian coast, and transfer of a 30-percent stake of CNOOC's onshore block 9 in Kenya to CPC.
Meanwhile, Sinochem Corp, China's biggest chemicals trader, offered to buy Emerald Energy Plc for 532 million pounds ($875 million) to expand its oil and gas drilling operations in the Middle East and South America.
Sinochem plans to buy Emerald for 750 pence a share, an 11.1 percent premium to the London-listed company's closing share price of 675 pence on Aug 11, the Beijing-based trader said in a statement yesterday.