On the eastern coast of China, the country's oil companies are building or already operating a series of liquefied natural gas (LNG) projects.
With an investment totaling billions of yuan, they are improving the energy mix of the country, which now relies on coal for 70 percent of its energy.
The latest among these projects is the Zhejiang LNG receiving terminal developed by China National Offshore Oil Corp (CNOOC).
The country's third-largest oil company announced on July 8 that the project has been approved by the central government.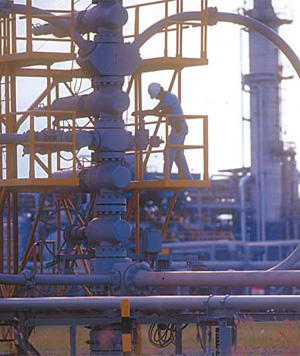 A technician works on a natural gas production rig of China National Petroleum Corp in Liaoning province. [Bloomberg News]
The project is CNOOC's fourth LNG terminal in the country. The first phase of the project, costing about 7 billion yuan and able to receive 3 million tons of LNG per year, is scheduled to be operational in 2012.
Currently, CNOOC is operating two LNG projects in Fujian and Guangdong. It is building its third LNG project in Shanghai.
The company aims to have 50 million tons per year of LNG receiving capacity by 2020, Zhou Shouwei, deputy general manager of CNOOC, said in July.
The target would be nearly eight times the total capacity of the first phase of two LNG terminals that CNOOC has brought on line since 2006.
CNOOC's ongoing expansion of its LNG facilities is in line with China's efforts to increase the use of natural gas to reduce its dependence on coal, which causes heavy pollution, analysts said.
Other domestic oil companies have also paid more attention to developing LNG projects.
China National Petroleum Corp (CNPC), the country's largest oil and gas producer, is now building LNG terminals in Liaoning and Jiangsu provinces.
In addition to building LNG terminals along the coast, domestic oil companies are also speeding up construction of inland natural gas pipelines.
CNPC last year started building the country's second west-east gas pipeline, the largest of its kind in the world. The project included one trunk line and eight sub-lines with a total length of 9,102 km.
The project, which is to cost 142.2 billion yuan, will cross 14 provinces, autonomous regions and municipalities.
It will carry 30 million cu m of natural gas every year from Central Asia and Xinjiang to eastern and southern areas including Shanghai and Guangdong.
The pipeline will greatly boost natural gas consumption in China.
Related readings:


 Fujian receives first LNG supply


 PetroChina, ExxonMobil wrap up talks on LNG receiving terminal project


 CNOOC, BG group sign agreement for Australian LNG project


 Growth in residential LNG sales lifts XinAo profits 4.3%

Once it comes into operation in 2011, China will raise the ratio of natural gas in its total primary energy consumption by 1 to 2 percentage points, said Wu Hong, an executive with CNPC.
Using natural gas from the project, as opposed to coal, could reduce carbon dioxide emissions by 130 million tons a year and sulfur dioxide emissions by 1.44 million tons a year, Wu said.
CNPC completed China's first west-east gas transmission pipeline in 2004.
The 4,000-km project crosses 10 provinces, autonomous regions and municipalities, linking Xinjiang's gas-rich Tarim Basin to Shanghai.
The line has a designed capacity of 12 billion cu m a year and provides natural gas to more than 200 million people in China.
Oil and gas pipelines are safer, more economical and more convenient than other transportation methods, said Han Xiaoping, a veteran analyst in Beijing.
"China will see booming development in the sector in the next few years," Han said.