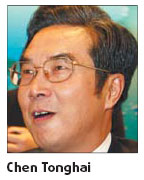 Chen Tonghai, the former chairman of Chinese oil giant Sinopec Corp, yesterday was sentenced to death, with a two-year reprieve, in what is believed to be the country's biggest bribery case.
Chen, 61, was convicted of illegally receiving 196 million yuan ($28.70 million) between 1999 and June 2007, when he resigned abruptly as chairman of Sinopec Corp, also known as China Petroleum & Chemical Corporation. In return for bribes, Chen helped others "seeking illegal interests" in company operations, land transfers and contracts, according to the verdict from the Beijing No 2 Intermediate People's Court. The verdict did not name the people who made the bribes.
The court recognized that he surrendered "all the facts related to his bribe-taking", which investigators had not known, and turned in all the bribes. Chen could have been sentenced to death given the nature of the crime.
Chen received a suspended death penalty. Such a sentence can be commuted to life in jail, then 20 years in prison or even less, if the court believes the person has repented.
Chen has 10 days to appeal the ruling.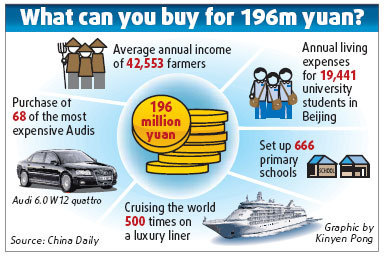 The court said in a statement yesterday that the leniency was based on law.
For crimes involving "extremely large sums of money," the suspects should be sentenced to death, but "if they confess or contribute to the handling of relevant cases, they should not get an immediate death penalty," the statement said.
Related readings:


 Sinopec ex-chairman sentenced to death for bribery


 Party boss jailed for bribery in SW China


 College president jailed for taking bribes


 Court upholds death penalty for airport ex-chief
Born in 1948, Chen once worked as mayor of Ningbo in Zhejiang province and then as deputy commissioner of the State Planning Commission until joining Sinopec in 1998.
His father was Chen Weida, a high-profile revolutionist and senior official.
The investigation into Chen started in 2007, and he was expelled from the Party and the government and officially charged with corruption in January 2008.
Experts said the handling of Chen's case sounded an alarm for the country's state-run company leaders.
The court said state reforms should be accelerated to improve supervision of power and "unearth corruption from the roots". Sinopec Corp, Asia's biggest oil refiner by volume, refused comment yesterday. Its performance at the Shanghai Stock Exchange was up by 0.67 percent.
Li Shuguang, an expert on State assets at the China University of Political Science and Law said the law should be changed to allow harsher punishment, to prevent such mishandling of State assets.
"Multiple, economic punishments, similar to that given to Bernard Madoff (in the US), should be written into the law," Li said.
"The country just cannot afford more State assets to be lost," he said.