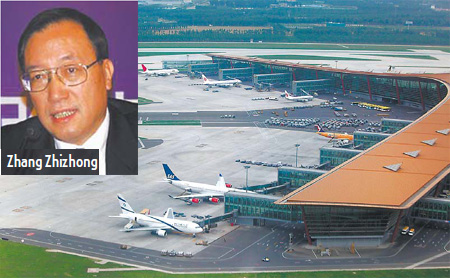 A view of the Beijing Capital International Airport. The airport operator expects to handle more passengers this year. [CFP]
Beijing Capital International Airport (BCIA), the country's biggest airport operator, reaffirmed on Friday its plan to be listed in domestic market within this year and said the passengers it handles this year is likely to exceed targets set earlier.
The Hong Kong-listed airport operator "will take advantage of the improved markets and monitor it closely to see when it is appropriate to launch the long-planned domestic initial public offering", Zhang Zhizhong, chairman, BCIA, said on Friday.
But Zhang declined to lay out a timetable or the size of the domestic share offering.
The company, which operates the gleaming T3 terminal at the Capital International Airport, said the passengers it handled in the first six months of this year reached 30.9 million, up 19 percent from a year earlier, Zhang said.
"Based on the first half performance, we are very likely to exceed our 62 million target set for this year," the chairman said.
It handled 55.93 million passengers last year, according to Zhang. "The passenger volume is likely to exceed 100 million by 2012," Zhang said.
The volume of China's air passengers has grown from 2.3 million a year in 1978 to 190 million last year, growing at an annual average of 15.9 percent, according to Wang Changshun, deputy director of the Civil Aviation Administration of China, the country's top aviation industry regulator.
Special Coverage:
Restart of IPO
Related readings:


 BCIA to expand its Tianjin airport


 BCIA to invest US$21.7m in Jingdezhen airport


 Greenland fuels IPO dreams with Beijing debut


 BaWang IPO debut set to shower money on founder couple
BCIA said earlier that it has paid 26.9 billion yuan ($3.94 billion) to buy assets, including Terminal 3 and a runway at the Capital International Airport, from its parent. "The asset transfer has been completed," Zhang said.
The company had raised the funds through debt financing, including issuing 5 billion yuan corporate bonds.
The asset-buying move is expected to improve the earnings prospects of the airport operator in the long run, as it will cut its financing and operating fees, analysts said.
The company reported a 92-percent fall in its net profit for last year, mainly dragged down by the increased operating expenses. It realized a net profit of 85.33 million yuan last year while revenue increased 31 percent to 4.62 billion yuan, according to its earnings report.
The airport operator on Friday kicked off preparations for the 15th World Routes Development Forum, which will be held from September 13 to 15 in Beijing.
The forum, which the BCIA will host, is an industry summit in which airports and airlines from around the world exchange or explore business opportunities. More than 3,000 delegates from airports operators and airliners are expected to attend the three-day event this year.