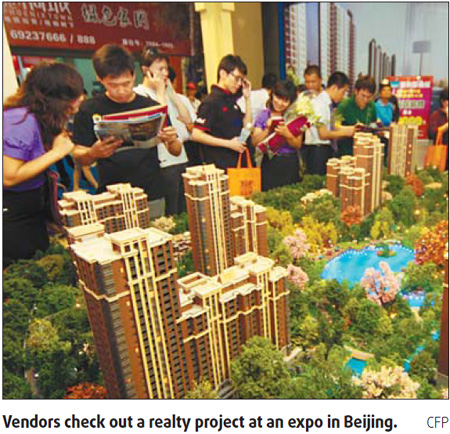 SHANGHAI: Greenland Group, a real estate company owned by the Shanghai municipal government, has entered the Beijing realty market by winning a hotly contested bid against some of the country's largest property developers for a prime development site for more than 3 billion yuan.
The transaction marks the second highest price paid by a developer this year for a track of development land in the capital city. A few weeks earlier, a site in Beijing's Guangqumen area was sold in an auction for about 4 billion yuan, an all time record.
Greenland said it plans to develop a residential and commercial complex on the 162,260 sq m site in the outskirts of Beijing. When complete, the project is expected to yield 458,000 sq m of gross floor space.
"The land in Daxing District is located close to the Beijing-Kaifeng Expressway and the proposed extension of Metro Line 4," Greenland said in a statement.
"It is our company's strategic move to expand our presence across the country, and we have been wishing to enter the Beijing property market for a long time," Wang Xiaodong, assistant director of Greenland's Group Office, told China Daily.
The yearning to go to the capital may have prompted Greenland to pay what industry experts consider a rather "bold" bid to win the entry ticket. Property analysts estimated that Greenland could only make a profit on the project if it can convince potential homebuyers to pay at least 12,000 yuan per sq m for the apartments built on that site.
That could be a tough call, considering that the average price for new apartments in Daxing District is around 10,098 yuan per sq m this year.
The company, however, insisted that the bidding price was not only reasonable, but also lower than it had earlier expected. "Our strategic focus this year is on Beijing, Shanghai and Tianjin, in that order," a company executive said after results of the auction were announced.
"It is a breakthrough and will help us expand our national reach," the company said.
Indeed, making a profit is not necessarily the only concern of Greenland in bidding for this site. Stock analysts said Greenland's geographical diversification, especially in the capital city, could lend support to its listing plans.
In the past several years, Greenland has invested in projects across 30 cities in 19 provinces from Heilongjiang's Mudanjiang city to the northeast China and Sichuan's Chengdu to the west, according to the company's website.
However, apart from Shanghai, the company has almost no presence in the country's first-tier cities like Beijing, Guangzhou or Shenzhen.
"Greenland's major market advantage is in the Yangtze River Delta, but it has been striving for developing itself to a nationwide brand from a local name," said Ma Ji, head of the research department at Shanghai Centaline Property Consultants Ltd, which operates the city's largest brokerage chain with 150 outlets.
The move has also triggered speculations in the market that the Shanghai-based property giant will speed up its initial public offering.
During the stock market boom of 2007, Greenland's President Zhang Yuliang made known to the public his company's listing plan, saying that it had been quietly preparing for initial public offering for some time. The subsequent market crash has obviously forced the company to put its listing plan on hold until now.
"Greenland has very aggressive expansion plans this year, and its first foray to Beijing will accelerate its long-anticipated listing plan," said Ma, who's very familiar with the company's operations, adding that the company's cash flow was ample and healthy.
Greenland sales exceeded 50 billion yuan in 2008, up 30 percent from a year ago, while the sales of its rival Vanke, a Shenzhen-listed company, was down 8.6 percent year-on-year to 47.87 billion yuan last year.