London and Beijing should work closely together as the world fights its way out of the economic downturn, said the UK's top financial regulator.
Adair Turner, chairman of the UK's Financial Services Authority, told China Daily that China and the UK should help list companies on each other's stock markets.
"Britain would see it more likely to have Chinese companies listed in London over time, as the mutual financial cooperation enables companies to build a global profile," Turner said.
And he said China's role in the recovery will be crucial.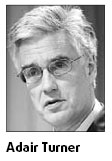 "It is very important, after the huge financial crisis, that we build up as much cooperation as possible between regulatory authorities across the world," he said. "It is important that we learn lessons from each other about the way we regulate our banking systems and discuss common approaches to regulation, because some of these approaches are based on a common global basis."
Additional cooperation with China is particularly significant, he said, because China recently became a member of the global Financial Stability Board (FSB) - the body the G20 hopes will better regulate the global financial system.
China will attend the board's first meeting in Basel, Switzerland, next week.
Turner, who is on a visit to China, said the world is recovering gradually from the crisis and the next steps will be very important.
"Part of the purpose of my three-day visit here is to build links with people who will be my colleagues on the FSB board," he said.
Related readings:


 China investment surge boosts recovery hopes


 China on road to recovery, new survey suggests


 WB: China's development key to world recovery


 ADB chief: China's sustained growth important to world recovery
China's financial system has not been hit as hard as many around the world because China is only partially integrated into the global financial system. However, the Chinese economy has suffered major shock and its growth rate was significantly reduced, Turner noted, pointing out that China's exports were down 26 percent in February compared to the same period last year.
Noting China's banks have a low profile overseas, Turner speculated the nation's opening-up will evolve to the point where its banks become "more global".
He said the severity of the crisis in Europe led people there to realize greater integration is needed.
"We would need some sort of European financial supervisory authority, as we are facing particular challenges from Eastern Europe," he said.
In Europe, he said, individual banks have found themselves stretched after extending credit, while some countries have struggled after unsuccessfully trying to peg exchange rates to the euro.
Former International Monetary Fund head Jacques de Larosiere has called for a regulatory authority in Europe and the European Commission is moving the idea through the European Parliament.

"We hope for, and are going to see, a much increased degree of European coordination and much closer working links between supervisors across Europe after experiencing the crisis," he said. "Generally, there is no quick recovery but there will be a gradual recovery based on a sound global financial system."