WASHINGTON -- China's rapid development will not only give other countries confidence, but also is key to the recovery of world economy, World Bank Vice President James Adams said in a recent exclusive interview with Xinhua.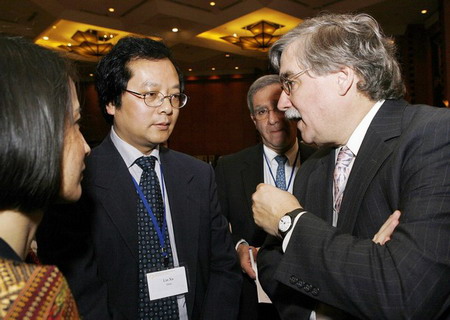 James W. Adams (R), the World Bank Vice-President for East Asia and Pacific, talks with delegates during a conference break in Hanoi, Vietnam, February 2007. [Agencies]
Eight Percent Growth Rate Reasonable
Adams said that China is much better prepared than most other countries to deal with the financial crisis, the most severe one since the Great Depression in the 1930s.
"Prudent financial policies and budgetary policies have assured China has resources to deal with the issue," said Adams, vice president of the East Asia and Pacific Region at the World Bank.
On Tuesday, the World Bank cut its forecast for China's 2009 economic growth to 6.5 percent from 7.5 percent, well below the 8. 0-percent target set earlier by the Chinese government.
"I think 8 percent is a reasonable goal, but there's risk that it will fall well below that because of issues that China cannot manage," said the World Bank official.
He noted that the massive stimulus package by the Chinese government has been a correct policy response to the crisis, but " the challenge would be how long it will take for that policy response to work through the system."
However, Adams said that the World Bank is confident that the strong positive growth in China will sustain, though it could be slower than the growth rate China achieved over the last five years.
"If Chinese economy lags behind what the government likes to see, China has both the capacity and willingness to put in place the strongest stimulus," he stressed.
China's Development Key to World Recovery
"China's rapid development will give other countries confidence. In terms of policies, approaches, development, China does give a very strong messages to the global economy," commented Adams.
China emerged as a very small importer and exporter, but now it is a very large importer and exporter globally, he noted.
"So clearly global economy does depend on healthy Chinese economy in terms of prosperity," he said.
Meanwhile, he also emphasized that the recovery is not China's job alone.
"While Chinese economy grows enormously, it still represents only a small fraction of global economy," noted Adams.
"We have to understand it is great that China can make the contribution, but that's not the only thing that has been put in place in global economy for strong positive growth," he added.