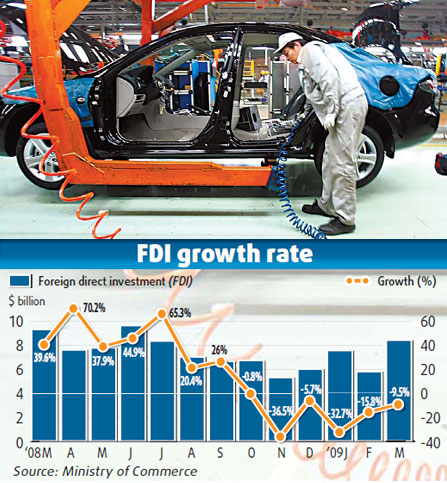 The factory floor of FAW-Mazda, a joint venture between China's carmaker FAW and Japan's Mazda. [CFP]
China will further streamline approval procedures for foreign direct investment (FDI) and channel more FDI into the underdeveloped western and central parts of the country, an official from the Ministry of Commerce (MOFCOM) said yesterday.
The move is part of the government's efforts to boost FDI inflow, which has been affected by the global financial crisis. China had authorized its provinces to approve FDI proposals worth up to $100 million last month.
MOFCOM spokesperson Yao Jian said the country would ensure a more convenient environment for examination and approval of FDI proposals and launch policies to spur foreign investment flow into China's central and western regions.
"FDI is of great significance in creating jobs and stimulating the economy," Yao said.
Related readings:


 FDI in China declines 20.6% in Q1


 MOFCOM studies revision of Foreign Investment Law


 FDI drops 15%, declines forecast for next few months

 Commerce ministry eases FDI rules

The ministry will also encourage investment in sectors such as hi-tech, services and environment protection, facilitate the establishment of more provincial-level economic and technological development areas, as well as mergers and acquisitions activity under the Chinese anti-monopoly law, Yao said.
MOFCOM statistics revealed that the value of FDI in March fell by 9.5 percent year-on-year, the sixth monthly drop in a row. FDI touched $8.4 billion in March, the largest ever in the past six months, but the monthly decline rate was far lower than that of the previous months; it had dropped by 32.7 percent in January and 15.8 percent in February.
In 2008, foreign investors in China, who accounted for 3 percent of the nation's total by number, contributed 30 percent to industrial output, 55 percent to its imports and exports, and created 11 percent of urban jobs.
In the first quarter, FDI in manufacturing and services dropped by 11.5 and 31.3 percent, among which, the real estate sector saw the biggest drop, of 38.3 percent.
Customs data also showed that in March, China's foreign trade decreased by double digits from a year earlier, the fifth monthly drop since last November.
But a positive indicator was that the contractions were getting smaller. Exports in March decreased by 17.1 percent, 0.4 and 8.6 percentage points lower than that of January and February. Moreover, exports of labor-intensive products including garments, bags, shoes and furniture were growing.
Experts have said China's foreign trade and FDI would witness mild growth in the last quarter of this year.
"The ease-off is encouraging, but the prospects are still tough and we cannot lower vigilance," Yao said.
With regard to foreign trade, Yao said the government would assist small and medium-sized enterprises in developing their overseas markets; offer them help in marketing, registration and branding; urge financial institutions to grant loans to the large-scale equipment providers for exports, and encourage the imports of products related to hi-tech and environment protection and primary products.