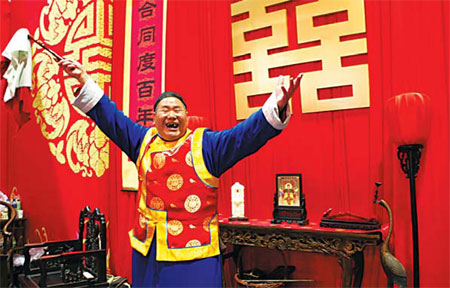 Veteran wedding host Wang Zanghong promotes his traditional Chinese-style wedding service at the Beijing Wedding Expo last week. More than 10 million Chinese couples marry annually, spending hundreds of billions of dollars in the process. [Xinhua]
How good was business at last week's Beijing Wedding Expo?
The ATM machines ran out of money.
"I didn't bring enough cash," lamented 26-year-old Wang Lin, attempting to console his fiancee, Zhao Yue, as they waited in line at one of the few machines that was still operating.
"I never thought we'd make so many spur-of-the-moment decisions," said Wang, an IT worker, as he and Zhao leafed through brochures for gifts, photo albums, clothing, banquets and honeymoons.
They were not alone. An estimated 34,000 couples mobbed the Expo over three days. They spent an estimated $29 million, 30 percent more than last year, as more than 1,000 merchants promoted everything from Lincoln Limousines to tours of France.
Weddings have always been big business in China, and this year is no exception.
More than 10 million people marry annually in China. Expenditures totaled $220 billion, or 13.36 percent of GDP, in 2006, the last year for which statistics are available, according to the Ministry of Commerce and the China Wedding Industry Investigation and Research Center.
Industry experts say the global financial crisis has forced some couples to scale back their plans, but it seems to have increased the number of weddings, as couples seek the security of marriage and a family during hard economic times.
Two astrological factors have also increased the number of weddings. Chinese believe the number nine is auspicious for weddings because it connotes longetivity. And according to the lunar calendar, this year has two "spring begins" - dates on which farmers traditionally begin planting.
By far the biggest change in the wedding market, however, is the expectations of the newlyweds as the "1980s generation" ties the knot.
As the first generation to grow up as the only child in their families, this generation typically has the resources of four adults to draw on, in addition to their own savings. An average couple spends $18,500 on a wedding, or 20 times their average monthly salary.
Wedding photography has grown geometrically in the past four years, according to Neil Xiao, an official of the Organizing Committee of the China International Wedding Expo.
In 2005, Xiao took representatives of 16 Chinese photo studios to visit wedding expos in several Western countries. They liked what they saw, and are now marketing lavish photo albums to Chinese couples.
Some are affiliated with studios in France, Italy, and North America. The Professional Photographers of America (PPA), a nonprofit association of professional photographers with 20,000 members in 54 countries, has opened offices in China and is now training wedding photographers.
Business is good, since Chinese couples tend to order three albums - one for themselves and one for each of their families.
Photography no longer ends with the wedding. In China, it is increasingly common for a photographer to accompany the couple on their honeymoon, snapping shots of them at scenic spots and memorable restaurants, while still leaving them plenty of time alone.
"We find people from the mainland are now spending more on clothing and wedding photography than people from Taiwan," said Hou Tsun Jen, manager of the Sophia Wedding Photo Studio in Taipei.
Mainland couples tend to buy formal clothing and wear it to the banquet, rather than just rent it for the photo session, he added.
Hou's company has factories making wedding garments in Taipei, Bangkok, Tokyo, and Shanghai, and plans to open a shop in Beijing to take orders.
"We were surprised to find that, because of the economic slowdown, orders have declined at all of our factories except Shanghai," he said.
Honeymoons now know no bounds. A five-day tour of Taiwan, with photos at various scenic spots, was popular at the Expo, possibly because it costs only $2,000 per couple.
Hawaii, France, and Italy are also popular destinations. Group tours are the rule, but destinations and accommodations can be tailored to each couple's desires.
The market for honeymoons abroad has barely been tapped, according to some in the industry. The Hawaii Tourism Authority, for example, came to last year's Expo but had no specific tours to sell.
"Most organized tours involve both a domestic and a foreign agency, which adds to the cost," said Samuel Warn, an international photographer who has recently opened a studio in China. "I hope foreign countries will make business easier."
Platinum is the metal of choice for wedding rings and other jewelry. China accounted for 68 percent of the platinum jewelry worldwide in 2008, according to an industry association.
Li Xin, a white-collar worker, ordered two heart-shaped platinum rings, which cost him $2,924. "That's about average for my friends," he said.
Beyond the basics, couples at last week's expo faced a truly daunting range of possibilities for their special day.
There were candies and cookies from every corner of the globe.
The Vineyard Wine Experience Shop offered couples the chance to make their own wine and design their own labels.
And Beijing Sweetie Gifts Co Ltd offered cartoon bouquets unique enough to entice one flight attendant to send them to friends in New York.
Of course, no wedding would be complete without a wedding planner.
Hu Ming quit a $20,000-a-year job with a foreign company eight years ago to become a wedding planner, and has never looked back.
"I usually charge $500 to plan a wedding and $400 to host it," Hu said. "I do at least four weddings a month. I'm making at least twice what I did at my old job, and I get to meet a lot of people. It's an ideal job for me."