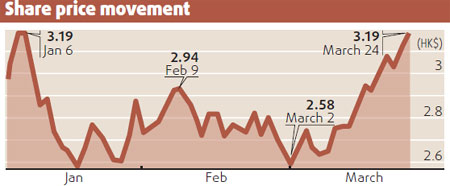 China Telecom Corp yesterday reported a 96 percent fall in full year net profit due to impairment losses on its personal handyphone assets and said it has delayed plans to rope in a strategic investor due to the weak market conditions.
Related readings:


 China Telecom underlying net dips, high hopes for 3G


 China Telecom starts 3G trials


 China Telecom expects 100 million CDMA users by 2011


 China Telecom to buy 20m 3G phones for service launch

China Telecom Chairman & CEO Wang Xiaochu said yesterday the company would rather look at debt refinancing due to its lower costs rather than introduce strategic investors.
The fixed line operator said full year net income tumbled to 884 million yuan from 24.2 billion yuan a year earlier after it booked a 24 billion yuan impairment charge on its Personal Handyphone System (PHS), the short-distance wireless services also known as Xiaolingtong, that it will retire soon.
Depreciation and amortization expenses for the period rose to 53.88 billion yuan, up 2.4 percent over previous year.
China Telecom said it is banking on its newly acquired 3G wireless network, based on the CDMA standard, to power its growth going forward as its fixed-line business matures.
Operating revenue rose 3.27 percent to 186.8 billion yuan, of which, the mobile voice revenue from CDMA operations was 3.97 billion yuan.
In the first two months of this year, the company recorded a net increase of 2.72 million customers.
The fixed-line business, however, has seen a slowdown, with revenue from its main wireline voice services falling 13.7 percent to 96.33 billion yuan.
Wang said the government subsidy is expected to account for 30 percent of the company's CDMA revenues this year.
"For the long-term development (3G), the subsidy is necessary." he said.
Wang said the company would spend 20 billion to 30 billion yuan to bankroll its CDMA business this year.
The average revenue per user (ARPU) of its mobile service was 63.5 yuan in February. Wang expressed confidence that the ARPU would remain above 60 yuan for the year.