Sylla Souleymane buries himself in his business and hardly has time to watch TV.
But the Malian businessman made an exception this time - he was glued to the TV all night watching the news about President Hu Jintao's Mali tour.
"Hu's visit to Mali is not only to strengthen the friendship between China and our country, but also to bring many benefits to us. I really appreciate it," Souleymane said.
Related readings:


 Yiwu sees first drop in export to US


 Small is beautiful for Yiwu


 Trade volume down 5% at Yiwu commodities fair
The 48-year-old opened a trade company in Yiwu six months ago. Seeing how business was booming, he helped his younger brother launch a company there soon after.
Located in the middle of East China's Zhejiang province, Yiwu is known as the largest business center of small commodities in Asia. Currently, there are over 10,000 foreigners living in the city, hailing from more than 100 countries.
According to the Yiwu Foreign-Concerning Service Center, the number of foreign enterprise offices in the city has reached 2,181. African head offices have increased significantly over the past decade, with 255 in 2008, up from only one in 2000. Many are from North Africa, including Egypt, Mauritania, Sudan, Mali and Nigeria.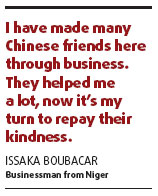 Africans are flocking to China for business: The number of African visitors rocketed to more than 34,000 in 2008, twice as many as in 2006, according to the Yiwu Entry-Exit Administration of the Public Security Bureau.
Souleymane purchases a wide range of small commodities in Yiwu, then sends them back to Mali for sale. The father of 10 said he is a walking advertisement for Yiwu goods, because all the things he wears from hat to coat to underwear and shoes are made in Yiwu.
"The low price is the biggest advantage that has attracted more customers in my country," he said.
Issaka Boubacar, a 43-year-old businessman from Niger, established a company in Yiwu in 2005 after closing down the one he had in Guangzhou when the African discovered all the things his customers looked for could be found in Yiwu.
As the first Yiwu businessman from Niger, Boubacar has helped more than 40 Nigeriens to open offices in the city over the past few years. He has also helped Chinese to develop businesses in Niger, and never asks for money for it.
"I have made many Chinese friends here through business. They helped me a lot, now it's my turn to repay their kindness," the father of two said.
Boubacar has been keeping a close eye on President Hu's ongoing five-nation African tour, which started on Feb 10.
"Cooperation between China and African nations can bring profits to both sides," he said. "Moreover, I hope our government can learn from China about how to care about the people, and how to work hard for the country."
When asked if the economic crisis affected his business, he declined to answer and smiled toward a queue of Middle East customers in the meeting room, who were waiting for him to talk business. "That's the best evidence," he said.