Yiwu, China's largest distribution center for small commodities in Zhejiang Province, continues to thrive despite the threat of global economic recession.
Though Yiwu's growth rate from January to September is slightly lower year-on-year, it is still amazing, city Mayor He Meihua said yesterday.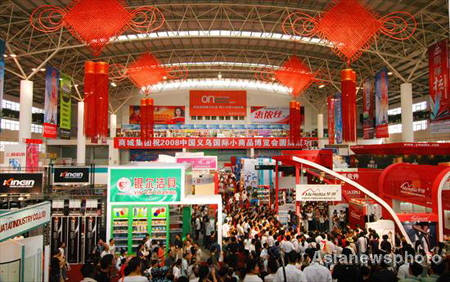 The Yiwu International Small Commodities Exhibition 2008 opens at Yiwu Meihu Conference & Exhibition Center, Zhejiang Province, on October 21, 2008.
 [Asianewsphoto]
Thanks to the government's support policies and local enterprises' efforts to expand their export destinations, Yiwu's exports in the first nine months of the year grew 28 percent year-on-year to 404,400 containers.
"Yiwu has not lost its charm, though its export growth has slowed down a bit," He said. "Some of the enterprises and individual businessmen do face difficulties, however."
The local government, confident of meeting any challenge, will keep a close eye on such firms and help them if the need arises, he said.
China's coastal area's foreign trade volume and some of the industrial units' value-added output and profit growth fell slightly in the second half of the year because of the global financial crisis.
To lessen the impact of the slower economic growth across the world, the local government announced a number of policies and offered 200 million yuan to help local firms improve their innovation, adjust their products portfolio and raise their added value.
About 1,400 applications for patents were filed in Yiwu in the first nine months of the year, and 900 of them were approved. This indicates the solid base of the city and the greater role technology-oriented firms are playing in its industrial growth.
Exporters in Yiwu have been trying to expand their destinations ever since the demand from the US and Europe began shrinking. The growth in Middle East, Africa and Latin America has more than offset the slump in Europe, and the demand from emerging markets such as India, Russia and Brazil have almost doubled.
Another indication of Yiwu's strength is the five-day 2008 China Yiwu International Commodity Fair, which opens today. It has attracted more than 2,800 firms, about 300 more than last year.
The city has long been known for setting up one of the largest consumer commodity markets in China, which has grown from 2.6 million sq m two years ago to 4 million sq m today.
An international hall, with 45 booths has been unveiled this year, drawing 27 exhibitors from 22 countries, including the US, the UK, Japan, Italy and Brazil.