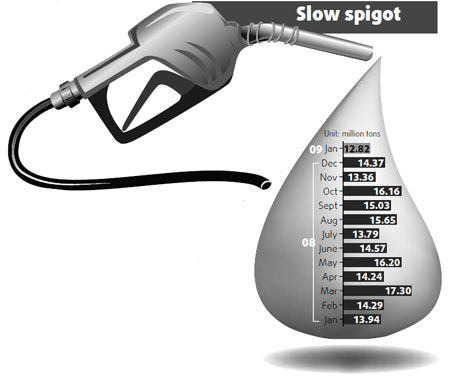 Source: China Customs. Graphics by Li Yi [China Daily]
China's January crude oil imports fell 8 percent year-on-year, hit by weak demand due to the economic downturn.
Related readings:


 China oil consumption up 12% in 2008


 China's crude oil output hit 190 mln tons in 2008


 Sinopec's crude oil, natural gas output up slightly in 2008


 China cuts oil prices after new pricing mechanism kicks in
The country imported 12.82 million tons of crude oil last month, the lowest since November 2007, according to customs figures released yesterday. The volume of imports was also nearly 11 percent less than the 14.37 million tons last December.
"The decline in oil imports will further drag down the already low global oil prices," said Han Xiaoping, an energy analyst.
Weak demand of oil products caused by the global financial crisis is the main reason for the decline, said Lin Boqiang, an energy analyst with Xiamen University.
China's petrochemical enterprises will face difficulties in the first half of the year, he said.
"Crude oil imports will begin to increase in the third quarter," said Lin.
China's oil imports last December increased 12 percent year-on-year. Analysts attribute that to the country purchasing oil for reserves.
China imported 179 million tons of crude oil in 2008, an increase of 9.6 percent from a year earlier.
Imports accounted for 48 percent of total crude oil demand in the country, 1.8 percentage points higher than that of the previous year.
China's crude oil output rose 2.3 percent year-on-year (the highest growth in three years) to 190 million tons in 2008, according to the China Petroleum and Chemical Association.
According to a recent report by the State Information Center, 55 percent of the country's oil consumption will be met by imports in 2010. That figure will rise to 66 percent in 2020.
China's oil consumption has experienced about 6 percent annual growth in recent years. However, the country's crude oil production only saw an average 2 percent increase year-on-year.
Industry insiders said China should further diversify its oil importing sources to find more sustainable supply. Presently the Middle East, Africa and Asia-Pacific are the main sources of China's imported oil.