BEIJING -- China's oil product consumption rose 11.9 percent last year to 215 million tonnes, the China Petroleum and Chemical Association said Tuesday.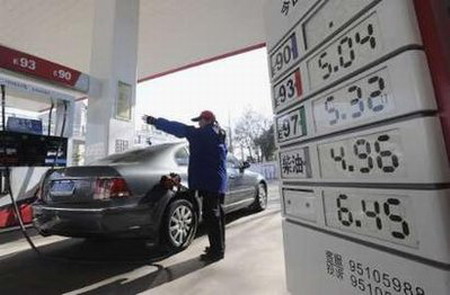 An employee fills a vehicle at a gas station in Hefei, Anhui province January 1, 2009. China's oil product consumption rose 11.9 percent last year to 215 million tonnes. [Agencies]
The growth rate was 5 percentage points higher than in 2007.
Related readings:


 CNPC expands oil and gas business to 29 countries


 Sinopec's crude oil, natural gas output up slightly in 2008

 China cuts oil prices after new pricing mechanism kicks in


 Oil falls to near $37 on gloomy demand outlook
China used 365 million tonnes of crude oil last year, up 5.8 percent. The growth rate was 1.5 percentage points below the 2007 level.
According to Zhu Fang, deputy head of the association's information and market department, refined oil product consumption grew faster than that of crude oil because imports rose in the second and third quarters. Data from the association show that last year, China imported 14.71 million tonnes of oil products, including gasoline, diesel oil and kerosene, up 107.4 percent.
Zhu said during the first half of 2008, global oil prices soared while domestic prices were capped at a low level. In response, local refineries cut or halted production to minimize losses.
That decision led to tight supplies of refined products in China and increased imports, Zhu said.
A leading oil producer, PetroChina, forecast that this year China would use 379 million tonnes of crude oil, 64.4 million tonnes of gasoline, 144 million tonnes of diesel and 13.1 million tonnes of kerosene.
Based on last year's consumption, those numbers would represent a rise of about 3.8 percent in crude oil use and 3 percent in product use.