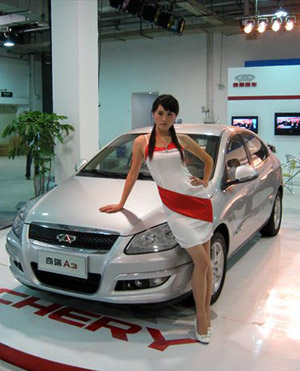 A model poses by a Chery A3 car showed at the 2008 Beijing Auto Show in this file photo.[Asianewsphoto]
Auto makers in China reported a substantial sales increase in January following the governmental decision to halve the car purchase tax, the China Association of Automobile Manufacturers (CAAM) said on Thursday.
On Jan 14, the country announced its plan to lower the purchase tax on cars with engines under 1.6-liter from 10 percent to 5 percent from Jan 20 to Dec 31 in a bid to spur domestic auto industry.
The tax cut, taking effect before the national Lunar New Year holiday, a major sales season in China, fueled car buyers' enthusiasm for low-emission vehicles with engines under 1.6-liter.
Major domestic brands featured by models under 1.6 liters, including Chery, Geely and BYD, all had recorded high sales in January.
Monthly sales of Chery exceeded 35,000, the highest since the company was founded in 1997. Daily sales topped 2,000 for five straight days from the launch of the tax cut -- up 50 percent compared with the previous average.
Related readings:


 Auto sales 'surpassed US in Jan'


 China auto export slows in 2008 amid falling demand


 Hyundai, Kia target China sales


 China's auto industry gets a shot in the arm
Geely sold 28,502 cars in January, up 14.5 percent year-on-year. BYD reported a historical high in combined monthly sales of its two low-emission models with engines of 1.5-liter and 1-liter, which neared 20,000 by number.
Foreign brands also made a good showing. Daily sales of models under 1.6-liter by Shanghai GM, namely Excelle, Chevrolet Aveo and Lova, increased from about 1,100 units to more than 1,300 after the tax policy took effect.
Low-emission models took up two thirds of the total 35,000-odd cars sold by Sino-Korean joint Hyundai in January.
"Auto sales in January were encouraging," Zhu Yiping, associate secretary in general with CAAM, told Xinhua, adding that more statistics are expected as some auto makers haven't reported their sales number yet.