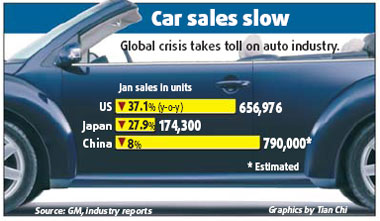 China may have surpassed the United States to become the world's largest auto market based on monthly sales in January, according to analysts and forecasts.
General Motors, the leading US automaker, estimates that China sold about 790,000 vehicles last month.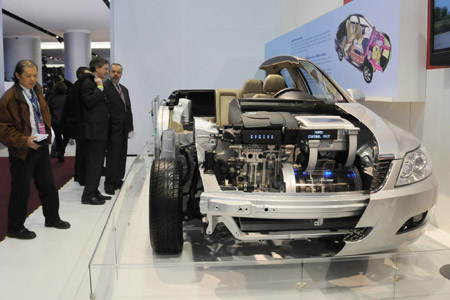 China's BYD Auto shows the inside structure of its F6DM at the North American International Auto Show in Detroit, Jan 11, 2009. [Xinhua]
While car sales in China have slowed lately, they haven't plummeted like in the US, where January sales tumbled 37 percent from a year ago to 656,976 vehicles - a 26-year low.
"This is the first time in history that China has passed the United States in monthly sales," Mike DiGiovanni, General Motors' executive director of global markets and industry analysis, said in a conference call late Tuesday.
Related readings:


 US auto sales hit 27-yr low, topped by China


 China's auto sales post first single-digit growth since 1999


 China auto export slows down as demand falls


 Auto sector gets a shot in the arm
DiGiovanni projects that Chinese auto sales could hit 10.7 million vehicles this year, nearly a million units more than his estimate of 9.8 million unit sales in the US for the same period.
The official Chinese car sales figures are yet to be published, but analysts say the GM estimate is close to de facto sales.
"Although it is too early to conclude based on the monthly figure that China has become the world's largest auto market, it is definitely the world's only major auto market with strong potential," said Yale Zhang, a Shanghai-based auto analyst.
China outpaced Japan to become the world's No 2 vehicle market in 2006. Although auto sales have slowed in recent months, analysts say China has great growth potential in the long term given strong domestic demand and recent government policies.
The government passed a stimulus package for the auto sector last month, reducing the purchase tax on vehicles with engine capacity of less than 1.6 liters by half to 5 percent.
It is also spending 5 billion yuan ($730 million) on subsidies to farmers replacing three-wheeled vehicles or outdated trucks with small, 1.3-liter or less, vehicles.
The push is to promote more energy efficient vehicles while improving the competitiveness of the country's highly fragmented auto industry. About 10 billion yuan is going into upgrading automakers' technology and developing alternative energy vehicles.
"The purchase tax cut is the most effective tool the Chinese government has adopted for market recovery," said Ricon Xia, auto analyst at Daiwa Securities. The tax adjustment is expected to boost auto sales in China this year by 3-6 percent, he said.