Detroit -- US auto sales plunged to a 27-year low in January, a steeper-than-expected drop that took the slumping US market below China's for the first time.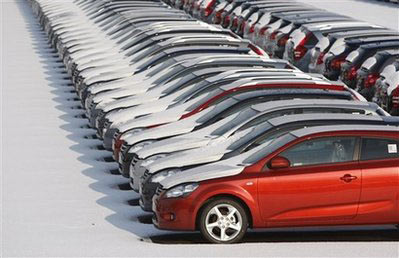 New cars are seen lined up on the docks during snowy weather at the Humber Port Facility, Immingham, England, February 2, 2009. [Agencies]
The two US automakers struggling to restructure under a $17.4 billion government bailout led the market lower. Chrysler LLC posted a 55 percent sales plunge. Sales for General Motors Corp were down 49 percent.
The bleak results were one of the first indicators of the depth of the US economic recession at the start of 2009, underscored by sharp declines by the industry's stronger players.
Toyota Motor Corp, the world's top automaker, was hit with a 34 percent sales decline. Sales were off almost 30 percent for Nissan Motor Co and 28 percent for Honda Motor Co.
Industry-wide sales dropped 37 percent, taking the annualized sales rate to 9.57 million vehicles, the lowest level since 1982. But that understates the depth of the downturn since the US population has increased about a third since.
"The truth is that the entire auto industry finds itself in the eye of this economic storm," Bob Carter, Toyota's US manager for its flagship brand, told reporters.
Ford Motor Co, considered the best-positioned of the embattled US automakers, posted a 40 percent drop that one analyst said would strain its stated intent to make it through the downturn without an emergency infusion of government cash.
"Even with a boost from the anticipated federal stimulus plan, we see consumers taking a cautious approach to large ticket discretionary purchases," S&P equity analyst Efraim Levy said in a note for clients.
GM cut its first-quarter production plan by almost 10 percent. Both GM and Chrysler extended new discounts to try to clear inventory and get production lines moving again.
"We're in the mouth of this monster, and we have a lot of work to do," Chrysler sales chief Steven Landry said.
US auto sales account for as much as one-fifth of retail sales. The downbeat results added weight to the view that the battered sector will be a further drag on US output.
GM, like other automakers, blamed tight credit for the downward spiral in sales since September. The depressed sales rate for January put the US market below China's in sales volume for the first time, the automaker said.
"People are coming in, wanting to buy vehicles and they're being turned down, just that simple," GM sales analyst Mike DiGiovanni said. "And we have to break and thaw the credit markets for consumers who want to buy automobiles."
Koreans Buck the Trend
Korea's Hyundai Motor Co and its affiliate Kia were the only major brands to escape January's collapse. Hyundai's sales rose 14 percent. Kia gained 3 percent.
Hyundai has been buoyed by a novel promotion that allows Americans to return their new cars if they lose their jobs within a year of purchase.
"It's a very smart program," Edmunds analyst Jesse Toprak said. "People are uncertain about the future and if you give them some security blanket that makes them feel better about the future, about their purchase, it can go a long way."
One of the key questions for the US market this year is whether Ford can make good on its bold bet that it can ride out the downturn with its existing $24 billion of cash.
In part, Ford is holding out hope that the US market will improve in the second half as an expected fiscal stimulus package takes hold and consumer confidence recovers.
To that end, Ford said there were some encouraging signs in January. Showroom sales appear to have stabilized even though sales to rental agencies were down sharply. Used car prices also appear to have stopped falling, executives said.
"What we are looking for at this point is stabilization," said Ford economist Emily Kolinski Morris. "You have to stop falling before you can start rising."
Although the US auto industry is entering its fourth year of declining sales, the deepening slowdown hit European and Asian markets hard in the final months of 2008.
New car sales in Germany, Western Europe's largest auto market, contracted in January at double-digit rates as German consumers tightened their belts in anticipation of the worst recession since World War Two.