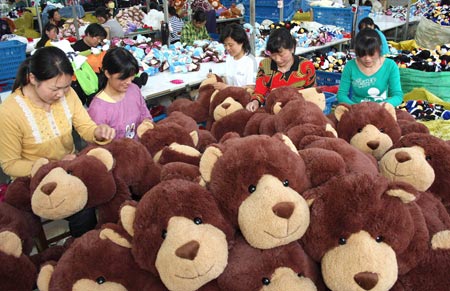 Workers make toys for exports in Lianyungang, eastern China's Jiangsu province. [China Daily] 
The Chinese government is mulling a response to India's recent ban on Chinese toy imports and will probably ask the World Trade Organization to investigate whether the ban violates WTO laws, said a person close to the issue on condition of anonymity.
This comes after a similar move in which China asked the WTO to investigate anti-subsidy and anti-dumping duties imposed by the US on four categories of imports from China in December.
Experts said it is a sign that China will be leveraging WTO rules to help protect its manufacturers from illegal trade barriers and punitive measures by its trading partners at a time when protectionism is growing amid the global economic recession.
The Indian government announced a six-month ban on imports of toys from China on Jan 23.
Related readings:


 Guangdong toy exports decline


 Nearly 1,000 toy exporters shut down in S China in 2008


 Growth of China's toy exports hit by financial crisis


 Trouble in China's toy industry
The Directorate General of Foreign Trade from India, which imposed the ban, did not spell out the reason for the restrictions, but Indian media said it is aimed at protecting Indian manufacturers from being squeezed by the cheaper Chinese products.
"The ban cannot hold water. The Indian side is doomed to lose in the court if the Chinese government appealed to the WTO Dispute Settlement Body," said Fu Donghui, managing director of Allbright Law Firm Beijing, which deals with WTO-related cases.
According to the All India Toy Manufacturers Association, Chinese products annually make up over 50 percent of the Indian toy retailing market, which was estimated at over $500 million in 2007.
It is estimated that China produces about 70 percent of toys worldwide every year, and South China's Guangdong province contributes about 70 percent of that total. Beginning this month, many toy manufacturers from the southern regions have complained that their export channels to India were cut.
Despite calls to resist protectionism, trade barriers and countervailing duties launched by China's trading partners have been running rampant.
On Jan 31, the European Union announced it will impose punitive tariffs as high as 85 percent on imports of screws from China since the products have been priced lower than those sold in the Chinese market. The measure is expected to deal a blow to more than 200 Chinese manufacturers.
It has been reported that the Chinese government is considering hitting back by appealing to the WTO.
"In the past, the Chinese government always kept silent. But the situation is changing, and resorting to the WTO is a right choice to prevent the trade partners from abusing the WTO regulations," said Fu.