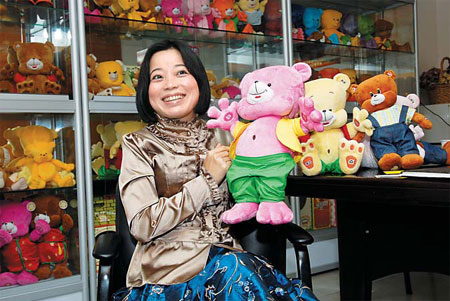 Hu Lantian, who owns the PP Bear Toy Company in the South China's Shenzhen, shows off the toys that would have been Christmas presents destined for European or American children, but because of the global economic slowdown, they will be sold on the domestic market. [China Daily]
All is not well in the Chinese toyland. Even as manufacturers huddle for cover from the chilly recession winds and wait for succor from Christmas sales, they now have to contend with the more stringent safety norms imposed by importing nations.
"I wish children around the world a safe and happy Christmas and I hope Chinese-made toys will bring them joy," says Chinese Ministry of Foreign Affairs spokesman Qin Gang at a recent ministry conference in response to questions on how China would ensure the safety of its toys ahead of the busy Christmas season.
The ensuing Christmas season may turn out to be a mixed bag for exporters, say industry insiders. While some key manufacturers may have reason to cheer, for many of the small and medium-sized firms that may not be the case, as they may have to make costly technology upgrades before exports.
Standard divergence
"It's the most terrible Christmas season we have experienced for a decade. Plummeting orders, cost surges, buyers squeezing prices and stringent safety standards are further complicating things for us," says Lin Jianmin, founder and general manager of Quanzhou Jianmin Toy Co Ltd, located in Quanzhou Scientific and Technological Development Zone, Fujian province.
The factory, which has annual sales of around 2 million yuan, employs 30 workers and produces stuffing dolls usually as Christmas gifts for children in North America and Germany. The busiest season for Jianmin Toy Co Ltd is normally from August to November, but this year orders have fallen nearly 50 percent over last year.
Compounding this has been the frequent production line adjustments, says Lin. The toymaker had to make production lines changes twice in a month. When orders from Germany were cancelled, Lin had to adjust the program of machines that were producing German orders to meet US requirements, as the safety criteria differed for both nations.
Further changes were called for after the US Congress passed the new federal children's product laws in August, setting higher standards for toy safety.
"We had to do such adjustments now and then over the recent years, since developed markets have different safety standards and their policies keep changing constantly," says Lin.
Changes like these affect the factory's working efficiency and increases costs. "It takes about a week's time to make the machines adapt to new procedures and also involves huge expenditure on purchase of substitute materials when required.
"I am not sure whether I can survive after this year, but I can promise that what we make are absolutely safe and qualified," says the middle-aged Quanzhou native, adding that poor quality and safety problem would be highly punished by the local supervision and inspection authorities.
"We (China) consistently request toy manufacturers to take strict control over the products' quality and to enhance supervision and inspection of the entire process of production," says Qin of Ministry of Foreign Affairs.
Amid growing concerns over the safety of Chinese products, the EU and the US launched negotiations towards a common safety standard for toys on November 17 in Brussels. The talks were formally opened during a trilateral high-level meeting between EU Consumer Affairs Commissioner Meglena Kuneva, the US Chairman of the Consumer Product Safety Commission Nancy Nord, and the Chinese Vice-Minister of Administration of Quality Supervision, Inspection and Quarantine (AQSIQ) Wei Chuanzhong.
The three sides have decided to bring their joint efforts to a new level by aligning their standards. Toys will be the first targets, since around 75 percent of toys sold around the world are made in China.
"Common standards and policy consistence are very crucial for Chinese manufacturers to do their business in a fair and transparent arena," points out Liang Mei, deputy chairman of China Toy Association.
Chinese producers have been complaining about the differing standards applied on the two sides of the Atlantic Ocean. Regulatory divergence is a "challenge" to safety, admitted Nord while speaking on the"historic opportunity to make progress on toy standardization".
Technology development
Quanzhou Gladpoint Co Ltd is Lin's neighbor. Compared with Jianmin Toy Co Ltd, the toymaker with 50 million yuan assets and 780 workers seemed as busy as usual - all production lines are in full operation - during August to November.
"Orders this year are stable and we are optimistic," says Huang Rongfu, manager with export department of Gladpoint, adding that he believes the economic slowdown and the stricter safety regulations are rather opportunities for the company to stand tall amongst its competitors.
"Amid the financial crisis, everybody becomes frugal and selective as well. They turn to established brands for safe and reliable products, those are our advantages," stresses Huang.
Though orders from the long-term buyers have fallen, many purchasers have shifted their orders from smaller workshops to Gladpoint, which manufactures plastic toys, plush dolls and wooden building blocks and exports them to US, Europe, Middle East and South East Asia.
The company has been able to promote its brand overseas successfully by participating in several toy events along with its self-developed designs for clients.
Huang adds that the company's strong focus on research and development would help it to overcome the new "technological barriers" and avoid safety disputes.
"Though the developed markets constantly issue new technological criteria, which are tougher and tougher, we are always well prepared in advance," says Huang. The company says it puts 10 percent of its sales into professional study and technology development every year.
A special team is also engaged in investigating and studying technology standards of various nations and international trends, while a group of professional staff is devoted to self-development, he says.
"We manage to make our own safety standards higher than the general or keep it ahead of the criteria of the exporting marketplaces," says Huang, citing lead content in toys as an example.
The new US standards set the maximum permissible lead content at 600 ppm (parts per million), effective February 2009 onwards. Gladpoint's internal benchmark, however, was set at 500 ppm since early this year." The technological advance helps us reduce costs and enhance safety reputation," says Huang.
The manufacturer provides self-development products or designs for clients to choose, which not only showcases their research and development capabilities but also reduces design flaw risks, says China Toy Association's Liang.
From last August, Mattel Inc recalled about 21 million toys in a span of five weeks, many because of the excessive levels of lead paint.
However, the largest US toymaker had in last September admitted that the recall was the result of a design flaw in Mattel's design and apologized for damaging China's reputation.
Qin, at the same conference, wanted Chinese toy manufacturers to check the designs provided by foreign buyers for flaws that may lead to quality or safety problems later.
"We require Chinese toy-makers to not only pay attention to the manufacturing process, but also to check strictly for foreign companies' design failures," he says, "Chinese toy-makers should not accept orders with bad designs from foreign companies nor produce them."
"Design flaws in products that foreign companies bring to Chinese manufacturers to produce, account for a lot of the recall problems," says Bruce McLaughlin, chief executive of Sinogie Consulting, which helps foreign companies investigate the reliability of Chinese manufacturers. He points out that Chinese toymakers have made good improvements on safety issues and "reliability in general has been getting steadily better".
According to statistics from the China Customs, during August to November, the busiest season for Christmas toy trade, China's toy export volumes rose 3 percent to $3.86 billion from $3.74 billion in the same period last year.