In the middle of the Ordos Desert that borders North China's Inner Mongolia autonomous region and Shaanxi province, a huge factory was recently built to perform the kind of tricks that most people believe only magicians are capable of doing - turning black solid coal into clean liquid fuels.
Related readings:


 Shenhua plans to triple capacity of its direct coal-to-liquids plant


 Shenhua exempt in China stoppage of coal-to-oil projects


 Energy: China Shenhua H1 net profit up 43.6%
The factory, owned by China's biggest coal producer, the Shenhua Group, is surrounded by dozens and dozens of coal mines and sits on top of an enormous coal deposit renowned for its quality. It is also home to many top scientists who are undertaking research and development of direct coal liquefaction technology.
Although relatively unfamiliar in most people's vocabulary, the technology dates back to World War II when German scientists developed a technology to convert coal into liquid fuels like gasoline and diesel.
With oil prices falling since 1985, the interest in coal liquefaction also slowly declined across the globe. China, a net oil importer with rich coal reserves, however decided to pursue the efforts and teamed up with the US, Japan and Germany for feasibility studies in Inner Mongolia autonomous region, Heilongjiang province and Yunnan province, respectively.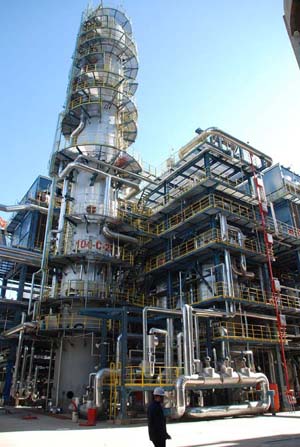 Shenhua's proposal of building a direct coal liquefaction plant in Ordos in Inner Mongolia was granted State approval in 2002, and after seven years of efforts, this world's largest direct coal liquefaction facility rose from paper, adopting a cutting-edge technology tested only on some small demonstration programs before.
The first trial operation of this 10-billion-yuan facility was launched on Dec 30, 2008 and the quality end products, namely diesel, naphtha and liquefied natural gas, came out on the second day. The trial was stopped after it ran successfully for more than 300 hours.
"We are happy to see the trials going on for over 24 hours. So far the results have far exceeded our expectations," said Zhang Jiming, manager, Shenhua direct coal-to-liquids (CTL) project in Ordos.
"With the success of the trials, China officially becomes the first country in the world to have the core competence to build and run a direct coal-to-liquids project capable of producing 1 million tons of fuels annually," he said.
"If the second trial operation, to be launched in summer, turns out to be a success, its production will be normalized and we will begin to expand this project to three times its current size," Zhang said.
By then, the entire coal liquefaction facility would be able to contribute 3 million tons of clean fuels annually. China imported 178 million tons of crude last year, and its oil import dependency was around 50 percent. "Coal liquefaction could greatly reduce the country's dependence on foreign oil when it is widely adopted, but mastering the technology is our priority for now," he added.
Zhang Xiwu, chairman, Shenhua Group, equates the importance of Shenhua's direct coal liquefaction technology to the satellite monitor technology demonstrated in the successful mission of China's third manned spacecraft Shenzhou VII last September.
The end products are composed of 70 percent clean diesel, and the rest are liquefied natural gas and naphtha, which could be used as chemical feedstocks.
"This technology certainly produces clean fuels with low sulfur, nitrogen and metal content. We minimize the pollutants and could achieve almost zero-emission during the production process," Zhang said, adding that the diesel produced with his CTL process is even cleaner than fuels of Euro V emission standards.
However, debates over the economic viability to put the coal liquefaction technology into full-scale commercialization never abate, but only grow louder after international crude prices dropped significantly from a record $147.27 a barrel in July 2008 to as low as $33.87 in December.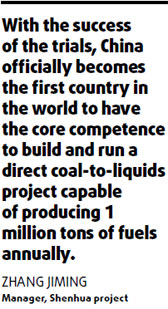 Coal can be used to produce liquid fuel suitable for transportation applications by removal of carbon or addition of hydrogen, either directly or indirectly. Direct liquefaction is one of the most efficient technologies currently available for this.
However, the cost of converting coal into liquid fuel is higher than the cost of refining crude. What still makes the technology attractive to pursue is the relative price of coal and oil.
Shenhua Group completed the feasibility study of the direct CTL project in 2001 when international oil prices were about $23 a barrel. But experts believe that a CTL plant in China needs an oil price of $40 or more to be free from financial risks.
"If this line's operation could be normalized, we can definitely make ends meet. However, to make this operation more economically sound, we have to expand its scale," said Zhang.
"Anyway, the price of coal here is very cheap. Actually, our project is sitting right on top of a large coalfield that could feed this project for over 100 years," he said.
With a proven coal reserve of 223.6 billion tons, Ordos is listed as the eighth biggest coal mine in the world.
"Despite all the talks about economics, I feel it a must for China to master the technology, as the country needs more and more liquid fuels, most of which are imported. The pirates along the oil transportation routes and the political changes in the Middle East are affecting our imports," he said.
"The fuel we produce out of coal could be an important source of strategic oil reserves to ensure energy security."
The National Development and Reform Commission issued a notice in September to suspend all other CTL projects except for the two run by Shenhua, one in Inner Mongolia and the other in Ningxia Hui autonomous region, saying there are still risks involved in this technology and capital-intensive business.
Since then, Shenhua is the only official player in this mega-buck game.
According to Zhang, the CTL project needs an investment of 10 billion yuan to increase capacity by 1 million tons and it could make better profit when it is run on a large scale.
The project, however, had its share of critics too, who termed it an environmental hazard.
Many people believed that the CTL project is water-consuming and hence the decision to build the facility in the middle of a desert could be definitely unwise, said Kenneth G. Tasker, director and technical advisor, Axens, a US company which provides engineering design and technical services for the Ordos project.
"However, they didn't know that the CTL project has installed a facility to achieve complete recycling of the water used," he said.
To provide enough water for the Ordos CTL project, groundwater is piped in from 100 kilometers away. Statistics show that the project needs about 6.5 tons of water to produce one ton of liquid fuel. The water consumption per unit of industrial value-added is only about 7 percent of the nation's average level.
"In addition, with this piped-in water, the trees we grow in the middle of this desert could be watered everyday. These trees could keep the sand down, so that it does not blow towards Beijing," he said.
The process of converting coal into liquid fuels releases CO2, just as the extraction and refinement of liquid fuel production from petroleum would do.
Therefore, the Ordos project has proposed to adopt carbon dioxide sequestration measures to avoid releasing it into the atmosphere, said Zhang.
"Though sequestration will add to the cost, we will carry on with the feasibility study and apply it when the expansion project gets started," he said.