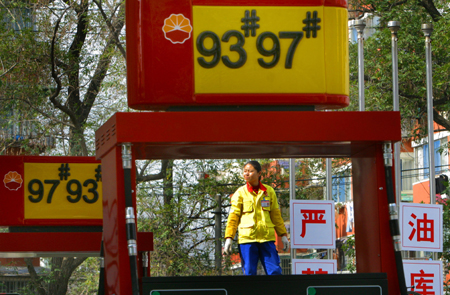 A China National Petroleum Corporation (CNPC) employee works at a gas station in Nanjing. [China Daily]
China National Petroleum Corporation (CNPC) yesterday said it had approved five new projects, which include oil and gas pipelines, oil refinery and chemical production.
The new projects involving huge investments were approved at a company conference on Dec 19, CNPC said on its website yesterday. It did not disclose any further details on the five projects.
The company also approved its 2009-20 plan for oil pipelines, it said.
Related readings:


 CNPC to expand refinery capacity in Lanzhou


 CNPC finds big gas reserve in Xinjiang


 CNPC to build pipeline in UAE


 CNPC finds new oil, gas reserves
CNPC spokesmen yesterday declined to comment on the five projects and the oil pipeline plan, but said the second West-East natural gas pipeline, which is under construction currently, is not included in the five projects.
Industry insiders said the five projects could include an oil refinery in Chengdu, Sichuan province and an oil and gas pipeline linking Yunnan province and Myanmar.
The Chengdu plant, located in Pengzhou, will have an oil refining capacity of 10 million tons per year and ethylene production capacity of 800,000 tons per year.
The investment in this project is expected to be around 10 billion yuan.
The project, which is so far the largest industrial project in Sichuan, has got the approval from the National Development and Reform Commission (NDRC) this year.
The NDRC said in November that in line with the government's policy to boost domestic demand, construction of the project is expected to start within this year.
According to the Yunnan provincial government, construction of the Yunnan-Myanmar gas pipeline is expected to start in the first half of 2009. It is one of a series of large energy and infrastructure projects Yunnan will embark on in 2009.
Earlier media reports said the project also included a $1.5 billion oil pipeline and $1.04 billion gas line. The project is expected to provide an alternative route for China's crude imports from the Middle East and Africa and ease the country's worries of its over-dependence on energy transportation through the Strait of Malacca.
CNPC General Manager Jiang Jiemin earlier said the company's investment in 2009 will focus on finding more oil and gas resources.
The company may have to adjust its investment structure due to the financial crisis, but will, however, continue to strengthen its core oil and gas business, said Jiang.