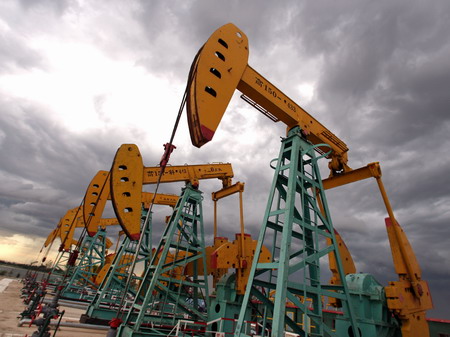 CNPC "nodding donkeys" oil pumps pump oil during a storm in Daqing, Heilongjiang province. [China Daily]
China National Petroleum Corp (CNPC) yesterday said it had made six major oil and gas discoveries this year, as the company has put increasing focus on exploration.
The amount of this year's newly proved oil reserves will rank the third highest in the company's history, and the newly discovered natural gas reserves are expected to exceed 400 billion cu m for the fourth time, CNPC said in a statement on its website.
Last year CNPC's newly proved oil reserves amounted to 1.04 billion tons, and the figure for natural gas was 452.2 billion cu m.
"CNPC's oil and gas exploration work has come into a stage of rapid development," said Zhou Jiping, vice-general manager of the company.
"The next five to eight years will be a crucial time for the company to build itself into an international oil company."
Facing the global financial crisis, the company will control its unit cost and spending to increase exploration profits, said the statement.
Jiang Jiemin, general manager of CNPC, earlier said that facing financial crisis the company may adjust its investment structure but will continue to strengthen its core business.
The company's investment in 2009 will focus on finding more oil and gas resources, he said.
Jiang said the company is also studying the possibility of acquiring energy companies made vulnerable by the global financial crisis both in the capital market and the resources market.
Last year CNPC invested around 100 billion yuan ($14.53 billion) to step up oil and gas exploration, said Li Runsheng, assistant general manager of the corporation.
CNPC in 2007 announced its biggest oil discovery in 30 years, Jidong Nanpu Oilfield in Bohai Bay. It has combined proven, probable and possible reserves of as much as 1.18 billion tons of oil equivalent.
The company's natural gas production has seen 20 percent growth in three consecutive years.
This year CNPC started the construction of the second West-to-East natural gas pipeline, which will mainly carry natural gas from Turkmenistan and China's Xinjiang Uygur autonomous region to the Yangtze and Pearl River deltas.
According to the company's website yesterday, CNPC has started building an 8 billion yuan engineering research and development center in Beijing.
The new center will be engaged in technology improvement, product development and machinery manufacturing.