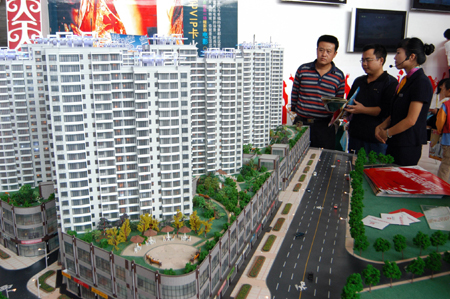 Potential home buyers at a real estate exhibition in Weifang, Shandong Province. [China Daily] 
Property price growth in China's major cities slowed 1.8 percentage points in September from the previous month, the National Development and Reform Commission (NDRC) said yesterday.
In a statement published on its website, the NDRC said property prices in China's 70 large and medium-sized cities rose 3.5 percent year-on-year last month, compared with 5.3 percent in August.
The growth rate has slackened for eight consecutive months this year, showing a further cooling down in the real estate sector.
Shenzhen, with a price drop of 10.8 percent in new residential housing and 16 percent in pre-owned housing, saw the biggest decrease in the country.
But property prices in Beijing and Shanghai maintained positive growth on a yearly basis, at 8.7 and 1.9 percent respectively.
"If the transaction volume remains low, we are expecting another around of price drops at the end of the year since listed real estate firms will strive to sweeten their annual reports," said Qin Xiaomei, research chief at CB Richard Ellis' Beijing branch.
Development in the high-end property sector, however, remains relatively unscathed, according to DTZ research.
"Purchasers of high-end property are well capitalized and thus less price sensitive than mass-market buyers," said Alan Ngok, director of the residential sector of DTZ (North China).
The "1000 Collection" villa project, developed by Zhujiang Real Estate, for example, decided to raise its sale price despite the gloomy market sentiment.
"Meanwhile, their scarcity makes investment in quality villas not so risky, particularly amid the current market problems," Ngok said, adding the high-end residential market will remain very active.