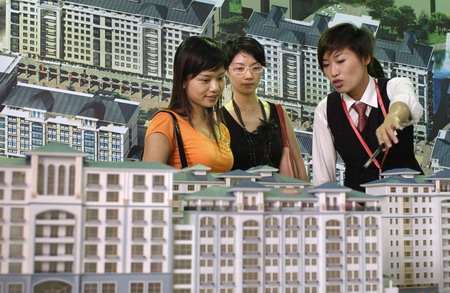 Shen Jun, a 36 year-old employee at a Beijing-headquartered State-owned enterprise, sometimes jokes with his younger colleagues that it would've been great if he had made one more mistake when he took the entrance exams for postgraduate studies in 1997.
"You see, when I took a job after finishing the three-year study for postgraduate degree, I suddenly found I couldn't get an apartment from the enterprise anymore, but my former college students who went to work in 1997, the year we received a bachelor's degree, all have cozy lives in their own apartments," Shen recalls, raising his eyebrows.
In 1998, China abandoned the welfare housing system in which State enterprises built houses for employees. Employees only had the usage rights but no ownership. That same year the government set up a housing matching fund system to encourage people to buy their own apartments. Enterprises and employees contributed the same amount of money to the fund.
Shen still remembers the strong sense of loss after he heard the news. "Suddenly, I didn't know what I should do," he recalls.

On May 9 of 1998, the People's Bank of China began offering individual mortgage loans but at that time, only a few people would do that.
"You know, Chinese people really hate debt, especially in the 1990s when a 10,000 yuan loan could be a big sum," Shen says.
Born in a small village in eastern China's Anhui province, Shen could hardly afford a house in Beijing when the average price for residential buildings hovered around 5,000 yuan per sq m in 1998.
Shen says he especially wanted an apartment in order to marry his girlfriend whom he'd been with for six years. Then a news story about "economically affordable housing" caught his eye.
On October 29, 1998 the country's first 19 low-cost housing projects, including the largest two Tiantongyuan and Huilongguan, made their debut at the Beijing Real Estate Transaction Center.
"It was really a pleasant surprise for me, but I also had some concerns over the location and building quality," says Shen.
Beijing's municipal government priced the apartments at around 2,600 yuan by reducing taxes to property developers and limiting their profit margin no more than 3 percent. However, most of the apartments were located in the rural-urban fringe areas.
"When Beijing's Fifth Ring Road was still in the blueprint stage and personal autos were still a luxury, living in such a remote location was almost unimaginable for most people working in urban areas," Shen says.
But he finally bought one in Tiantongyuan due to the "attractive" price.
After Shen Jun moved into his new apartment in the largest low-cost housing project in Beijing, in 2001, he found that some of his neighbors were actually pretty well off.
"Could you imagine, there used to be a BMW parked beside our building, usually on the weekends," Shen says.
The Beijing Municipal Construction Committee hadn't established minimum and maximum income guidelines for buyers, so a number of wealthy people took advantage of the loophole and bought apartments that they resold later for large profits.
Finally, in 2000 the Beijing municipal government said that the low-cost apartments would only be sold to families with an annual income below 60,000 yuan.
Four years later, the Ministry of Construction, together with the National Development and Reform Commission, the Ministry of Land and Resources and People's Bank of China established the country's first regulation on managing low-cost housing. Among other criteria it specified the building quality, legal buyers and prices. The regulation also required most of the homes to be between 60 and 80 sq m.
At the end of 2007, seven ministries led by the Ministry of Construction further tightened the controls over the housing, stipulating that the government has priority if the homes are sold and that no sales would be allowed until after five years of the purchase.
The government has also increased the supply of low-cost housing. This year Premier Wen Jiabao said in his work report this year that the government earmarked 6.8 billion yuan ($995 million) in its 2008 budget to build low cost housing for the urban poor in the western and central parts of the country. That's 1.7 billion yuan, or 33 percent, more than last year. Qi Ji, the vice-minister of construction, said the central government has decided to allocate 70 percent of the land supply this year to build homes for middle- and low-income families and the needy.
The government's intensified efforts in making houses more affordable also partly reflect the soaring property prices throughtout the country.
Shen Jun still lives in Tiantongyuan. Thanks to the newly opened Line 5 subway, he spends much less time in traffic. But he also finds it increasingly difficult to afford a new apartment in Beijing's urban area.
"The property price around Beijing's north Fourth Ring Road has jumped from some 5,000 yuan in 2001 to nearly 20,000 yuan in 2007," says Shen, adding that his salary increase is far from catching up to the property price growth.
On July 13, 2001, Beijing won the bid to hold the 29th Olympic Summer Games. And in August, a group of 134 real estate speculative investors from Wenzhou, Zhejiang province went to Beijing and inked property deals valued over 100 million yuan. Meanwhile, the property prices in some of Beijing's districts jumped more than 1,000 yuan that year.
But Beijing's property price hike really began in 2005 when prices increased more than 20 percent to 6,776 yuan per sq m. While from 2000 to 2004, the capital's property prices only saw an annual average growth of 0.78 percent, industry statistics show.
During the following two years, the capital's property prices maintained an annual growth of more than 10 percent. And the property prices in second-tier cities also caught up. Beihai, a city in South China's Guangxi Zhuang Autonomous Region, for instance, has been on the top of a list by the National Development and Reform Commission (NDRC) for four months in a row due to its skyrocketing property prices.
This round of soaring property prices peaked in the second half of 2007 when apartments sold within days of being listed.
"People even had to rely on a relationship to buy an apartment at that period of time, and the prices could jump more than 1,000 yuan after a week," says Chen Liang, a 29-year-old company staffer who bought an apartment along Beijing's East Fourth Ring Road in June 2007. The average price for his apartment grew from 11,000 yuan per sq m in June to 16,000 yuan in October.
To rein in runaway property prices, the government launched a new slew of measures to cool down the market beginning in 2005. They included raising mortgage rates for individual home buyers, ensuring the supply of medium and small sized apartments, curbing speculative buying, and levying taxes on individual property sales made within two years of purchase.
However, those measures, called the "eight principles", hardly work. The country's property prices keeps running ahead.
On April 27, 2006, a Shenzhen netizen named Zou Tao embarked on a "No Property Buying" project over the Internet and received more than 20,000 individual messages of support from netizens in 32 major cities.
Also in 2006, at a State Council meeting on May 17, Premier Wen Jiabao announced "six principles to promote the healthy development of the real estate industry". They targeted the supply structure, taxation, credit, land, construction of low-rent and affordable housing in an attempt to cool down the sizzling market.
On July 11, 2006 six relavent ministries issued a notice limiting the entrance of foreign capital into the real estate market and tightening the management on foreign institutions' investment and individual property buying in China.
Those intensive measures finally slowed property prices in 2008. Most of cities, including Beijing, Shanghai and Shenzhen, saw drops in property transactions and prices.
Shenzhen, a city that underwent a dramatic increase in property prices in recent years, saw a price drop of more than 30 percent since the end of last year. It reminded people of the first property bubble burst in China's coastal areas in the early 1990s.
In 1990, the State Council issued a pilot rule on the remise and transfer of urban land's usage rights. It was seen as the beginning of China's real estate industry. Due to high and quick returns from the real estate sector at that time, most of the idle money from banks and enterprises rushed to the property market in coastal cities such as Shenzhen, Hainan, Huizhou and Beihai for land purchases and property development. The over speculative buying and investment finally burst the bubble in 1993 and left many unfinished buildings in those cities, some of which remain to this day.