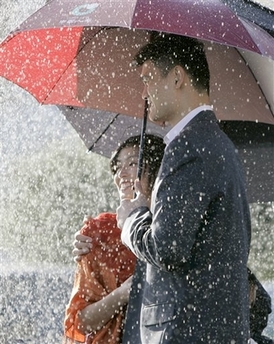 Chinese basketball players Yao Ming, right, and his wife Ye Li huddle under umbrellas during a television commercial shoot for China Life Monday, December 3, 2007 in Houston. [Agencies] 
In 2007, China Life Insurance had a market share of 39.73 percent, down from 44.6 percent in 2006. Its premiums reached 196.62 billion yuan ($28.13 billion), up 8.53 percent, compared with 13 percent growth in 2006.
Related publication: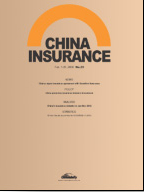 Related readings:


 Life plunges after Q1 profit declines


 China Life Q1 net profit down 61%


 China Life net profit surges 94.8% in 2007
Latest statistics from the China Insurance Regulatory Commission show that premiums collected by China Life's life insurance business grew 21.86 percent, a rate much higher than its overall premium growth.
In the first two months of 2008, the company's premiums were 59.66 billion yuan, a year-on-year increase of 38.6 percent, lower than growth of the industry's personal insurance premiums. Premium growth of China's personal insurance companies was 58.19 percent higher than a year earlier.
Some analysts attributed China Life's dwindling market share to its absence of multi-purpose and unit-linked insurance businesses, which surged 558 percent and 110 percent respectively with last year's booming stock market.
......
The full text is available in the April Issue of China Insurance.