China Life Insurance Co, the nation's largest insurer, fell in Shanghai trading after the company reported a drop in first-quarter profit as a declining domestic stock market hurt investment returns.
The Beijing-based insurer lost 4.12 percent to 32.8 yuan ($4.68) on the Shanghai market yesterday. Its Hong Kong-traded shares slid 1.63 percent to HK$33.25 ($4.27).
China Life's net investment income declined 10 percent to 15.1 billion yuan in the first quarter as the nation's benchmark stock index lost 29 percent, making its market the world's seventh worst performer. The firm's 39.5 percent first-quarter premium growth also left it lagging a 52 percent average for the country's life insurance industry.
"We've sold China Life shares as we lower our China exposure and face redemptions in the market downturn," said Gabriel Gondard, deputy chief investment officer at Fortune SGAM Fund Management Co. "What's key for investors is China's stock market performance, given its link to insurers' investment returns." Fortune SGAM sold 8 million China Life shares by the end of December.
China Life's first-quarter net income fell 61 percent to 3.47 billion yuan, or 0.12 yuan a share, from 8.89 billion yuan, or 0.31 yuan a share, the firm said in a statement late Sunday.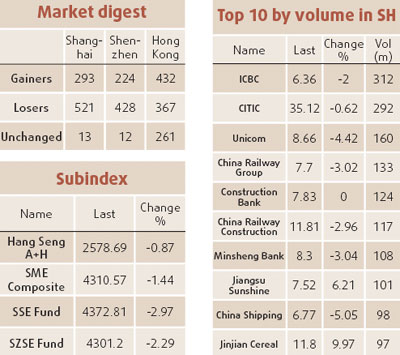 The company had 23 percent of its 2007 portfolio invested in equities, compared with 24.7 percent for smaller rival Ping An Insurance (Group) Co. Shenzhen-based Ping An, China's second biggest insurance firm, is scheduled to announce first-quarter earnings on Wednesday.
"Equities are actually not a large part of Chinese insurers' portfolios, but they ended up taking a disproportionate role in companies' reported earnings because the market was so heated last year, according to Howard Wang, the Hong Kong-based head of Greater China at JF Asset Management.
Chinese insurers are well-equipped to manage their equity investments, though short-term headline profits and investor sentiment will be negatively affected by the market slump, wrote Hong Kong-based Credit Suisse Group analysts Chris Esson and Frances Feng in an April 17 report.
Esson and Feng, who have an "outperform" rating on China Life's stock, said they prefer the company to Ping An because the former's equity portfolio provides greater profit-smoothing flexibility. China Life's acquisitions strategy is also not as rife with uncertainty as Ping An's, according to Credit Suisse.
China Life's Shanghai-traded stock has plummeted 43 percent this year.