A legacy that builds on home comforts
Share - WeChat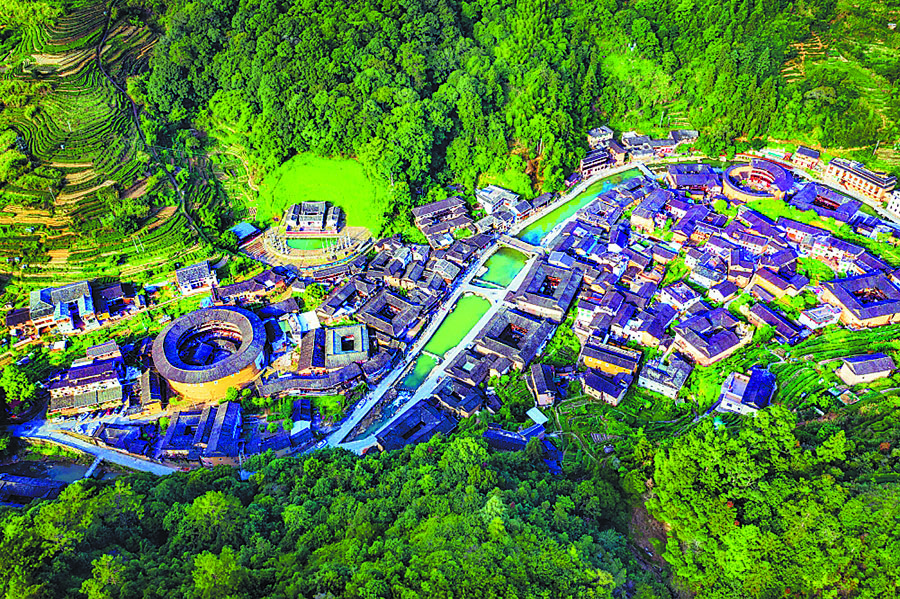 Those buildings became better known after 46 of them were given World Heritage status by UNESCO in 2008.
UNESCO says on its website that "they are exceptional examples of a building of tradition and function, exemplifying a particular type of communal living and defensive organization, and, in terms of their harmonious relationship with their environment, an outstanding example of human settlement".
Zhang says that "a major charm of tulou lies in them being made of rammed earth and wood, yet being able to stand the test of time, lasting for more than 1,000 years".
Now in his 70s, he witnessed the whole construction process of tulou during his childhood, before becoming engaged in building them himself in his teens.
"In the construction of those earthen buildings, one must master four actions of striking, pounding, hitting, and patting," Zhang explains.
The county stopped construction of new tulou after the 1970s, preserving only the 20 that have the UNESCO status, but Zhang is still attached to the ancient buildings.
"The cohabitation of dozens of households and several hundred people in one earthen building reflects the Hakka tradition of living together as a clan and harmoniously coexisting as a family," he says.
"In addition, the use of local materials to construct a tall and grand earthen fortress, turning the ordinary into the extraordinary, showcases the ingenuity of the Hakka in the process of conquering nature," he adds.
Zhang says it is this cultural significance that inspired him to persist in practicing the ancient art of rammed earth construction for several decades.
He eventually found an outlet to continue his enthusiasm when, in 2017, local authorities opened a facility providing the opportunity for tourists to experience the lifestyle that these buildings offer at the Nanjing tulou scenic spot.
He would stand before a miniature mold at the facility and explain the craft behind the ancient architectural techniques to visitors, while introducing the history and culture behind them.
Whenever he has time, Zhang also takes the initiative to chat with visitors across the whole tulou scenic spot to help them better appreciate its charm.
The soil used often came from below the fertile layer of the paddy fields because it can be hardened by calcification, Zhang says.
"It was essential to choose cohesive soil mixed with sand," Zhang says, adding that egg white, brown sugar, glutinous rice and lime were added to the soil in some places.