Building deep foundations
Share - WeChat Snowboard superstar Su Yiming's new initiative helping next generation hit the heights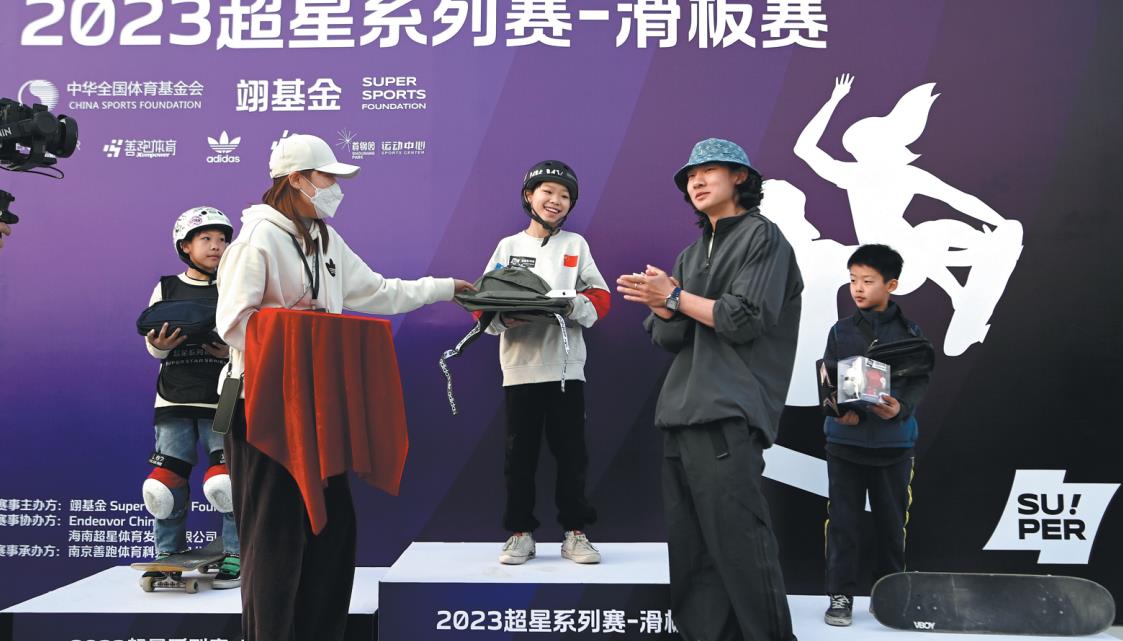 More than a year has passed since Su Yiming made history by becoming China's first Olympic champion in men's snowboard Big Air at Beijing 2022.
Now the 19-year-old is truly a sports superstar, as evidenced by the throng of fans who mobbed him upon his return to Big Air Shougang, where he rose to prominence and also bagged slope-style silver at the Games. Everywhere he went, fans clamored to obtain his autograph on their helmets, caps and clothes, and jostled to take photos with him.
Su is determined to use his influence for the greater good.
In an effort to give back to society, he has established the Super Sports Foundation — a public welfare organization focused on advancing youth sports education and facilitating mass sports participation. Sunday's launch ceremony was held at Big Air Shougang, a fitting location given Su's roots and achievements.
He confessed that meeting young fans who tell him they picked up snowboarding because of him is especially rewarding.
"I am fortunate to be a role model to many children, and I hope to showcase the best version of myself to inspire others," Su said.
He stressed that he too was once a dreamer looking up to his own idols. With the help and encouragement of many people, he was ultimately able to reach the Olympic podium. So, as someone who grew up with the love and support of others, Su hopes to provide Chinese youngsters with a similar platform to succeed through his foundation.
"Though my path to success may not have been easy, it's not impossible for others to follow," he explained.
The foundation plans to organize a series of sports events, dubbed the "Superstar Series" — focusing on trendy extreme sports like skateboarding, surfing and snowboarding — to encourage the younger generations to unleash their potential.
Su's father has been conducting free snowboarding training sessions at ski resorts in Northeast China's Jilin province for over a decade. Su considers his dad a true practitioner of the country's campaign to involve 300 million people in ice and snow sports.
This year, Su decided to emulate his father's efforts by providing youngsters with a better environment to experience the joys of surfing, snowboarding and skateboarding.
Most Popular
Highlights
What's Hot