A miniature of 'East-meets-West' eclecticism
Share - WeChat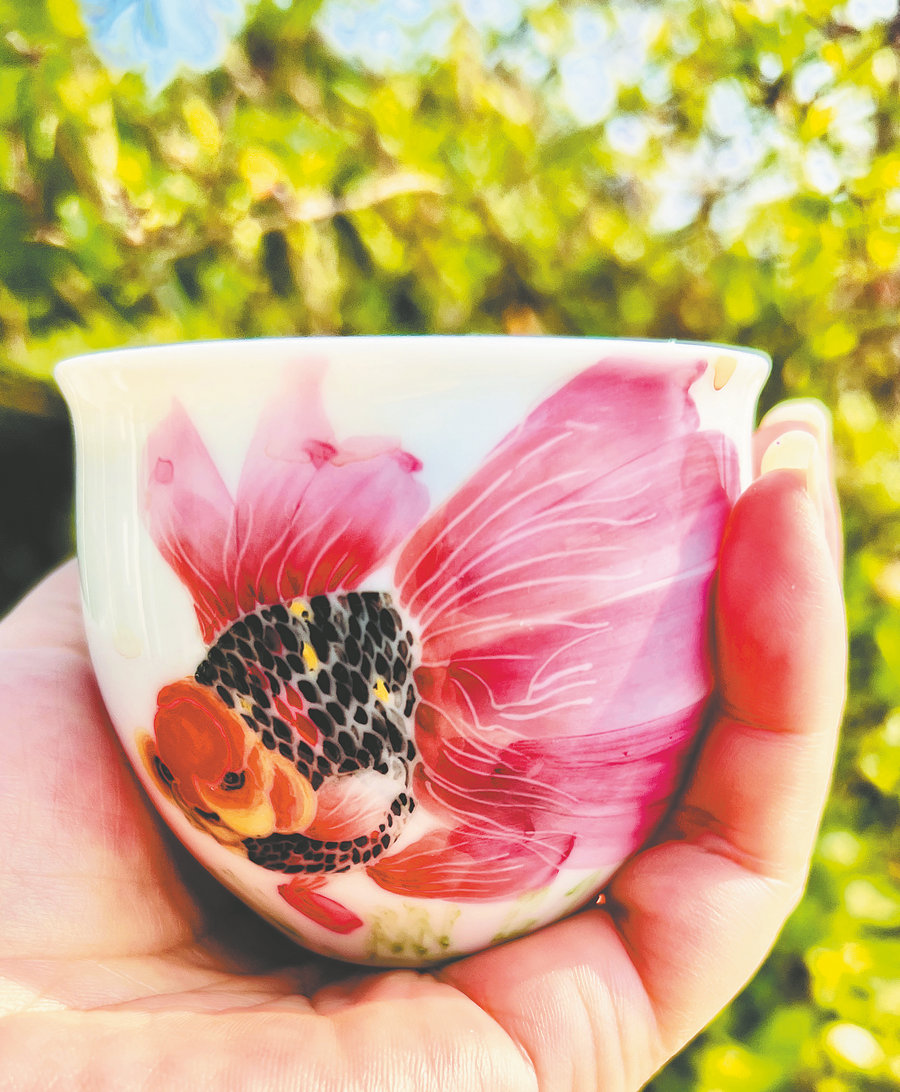 A petite cup that could affectionately sit in a palm takes pride of place on Chai's workbench, where a Lionhead Goldfish — a symbol of wealth and harmony in Chinese culture — appears in glowing relief. Its crimson-hued head crown and fluttering giant tail in cherry blossom color bring it to life.
"Touch it," Chai says before handing it over. It turns out that the black specks of fish scale jut out of the surface slightly, turning the ware palpably textured and animated. "The paints have extractions of agate and emerald which, when fused with gold, can better dissolve," she explains. "It's fired at 1,380 C, sharp, neither higher nor lower. Only the pitch-perfect temperature can yield the desired watered-down colors and render a hazy effect to create gradations between different colors (seen in impressionist art)."
In essence, Chai is grafting the eclecticism of Chinese realism and Western impressionism onto her porcelain improvisation. In other words, the approach on paper still applies to ceramics, while the "water" as a medium to meld the colors on paper is substituted with "fire" or "temperature" in china painting.
A close examination of her porcelain painting following her explanation leads to more riveting discoveries — the goldfish's tail unfurls like a velvety plume as the pinkish shades of color fade into the periphery; the fall leaves ablaze in shades of color, from chrome yellow to amber yellow to a residue of fiery red and to something in between, transport one to the restful autumn; a basin ornate with a boldly colored lotus flower punctuated with dragonflies and frogs in pops of color is brimming with vitality that is about to spill over the edge.