Keep the fire burning -- HK's oldest porcelain plant passes down timeless beauty
Share - WeChat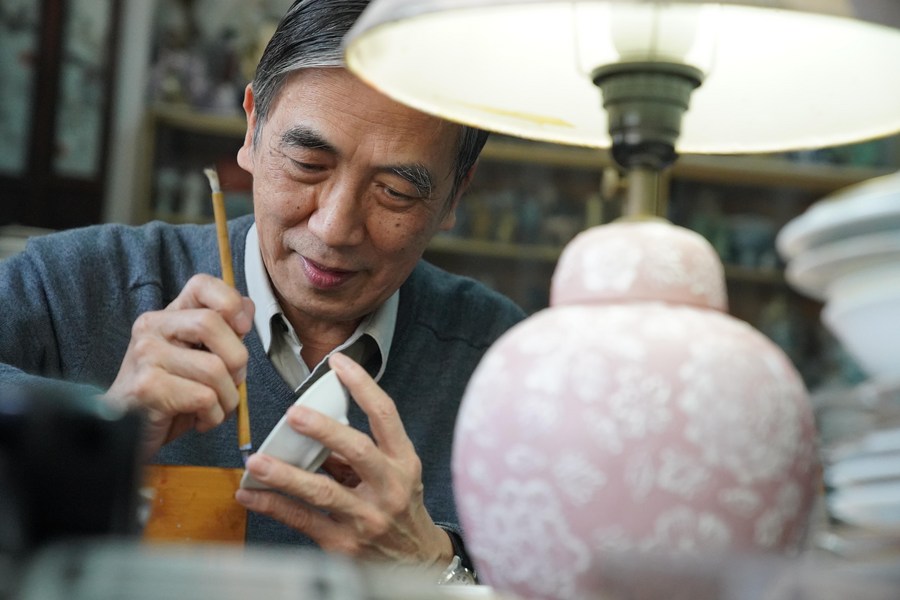 Yuet Tung China Works, located in Kowloon Bay, Hong Kong, has been crafting porcelain pieces for nearly a century.
As visitors step inside the factory, they are greeted by the exquisite and unique Cantonese-style porcelain pieces that adorn the walls and shelves. Artisans can be seen painting or coloring on porcelain bodies, their hands steady and eyes focused.
The factory's collection ranges from designs featuring the Grand View Garden in A Dream of Red Mansions to modern Hong Kong landmarks, each a testament to the artisans' exceptional craftsmanship and dedication to their work.
At Art Central 2023, an annual international art fair in Hong Kong, the factory's collection of Guangcai porcelain drew much attention. Joseph Tso, the third-generation successor of the factory, takes great pride in the skills of Guangcai.
This traditional craft, born over 300 years ago, involves painting and firing various colored paints on white porcelain vessels. The pigment is delicately applied onto the porcelain body, imbuing it with subdued tones and a matte finish. After being fired at a scorching 800 degrees Celsius, the pigment is transformed into a permanent, vitrified state, revealing a stunningly transparent and smooth porcelain masterpiece that is a feast for the eyes.
"Becoming a Guangcai painter requires at least three years of apprenticeship," Tso said. According to him, the most crucial aspect of Guangcai is the composition of the image and the freehand drawing of lines. Aspiring artists must first learn to draw lines before being able to create more complex designs.
Using a box to support their hands, painters deftly wield a brush in one hand and a porcelain dish in the other, creating perfect circles like the smooth movement of a needle on a record player.
During the 1960s and 1970s, the ceramics factory flourished, with approximately 300 painters handcrafting and painting the delicate porcelain pieces.