Keep the fire burning -- HK's oldest porcelain plant passes down timeless beauty
Share - WeChat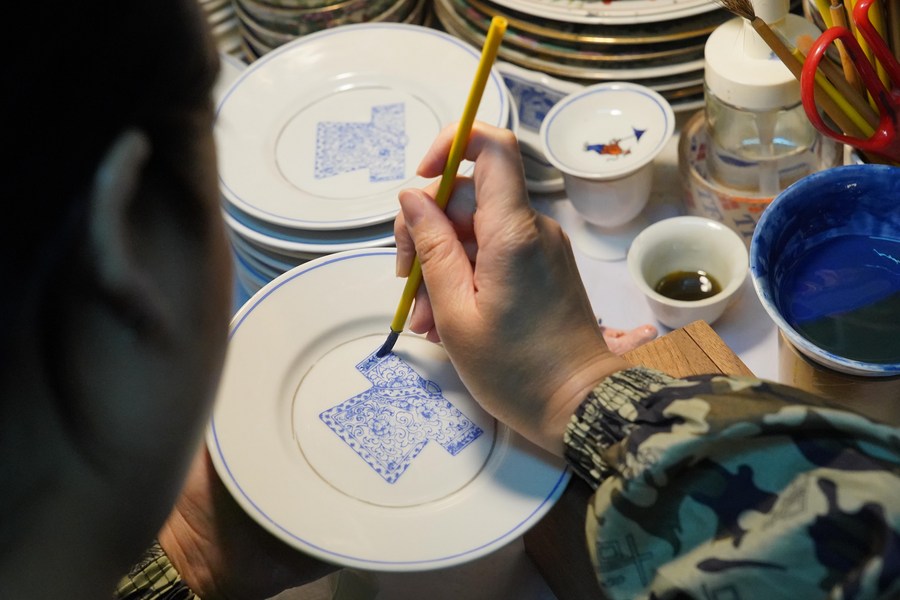 Back then, the shop's products were mainly sold to Europe, America and Japan. Surging demand had also revealed problems: the hand-painted process was time-consuming and costly, and the plant had to cope with a shortage of skilled artisans.
Tso's father came up with introducing customized products through a "half painting, half filling" approach. The hand-drawn pattern is first screen-printed onto transfer paper, and then transferred onto the white porcelain for firing. This process enhances production efficiency and streamlines the manufacturing process.
On its social media pages, Yuet Tung described itself as Hong Kong's first, and last hand-painted porcelain factory. Similar to some traditional crafts, Guangcai porcelain in Hong Kong faces the challenge of passing down its techniques and knowledge to future generations.
"Times change, and we must adapt in order to persevere," said Tso, who introduced new designs to the porcelain products after taking charge of Yuet Tung's businesses in the 1970s.
No matter how much the company adjusts, Chinese traditional elements have always been the core of its products.
"As a Chinese, I am very proud that we have such a rich cultural heritage," said Ruby Tso, the wife of Joseph Tso. She believes that Guangcai porcelain is one of the industrial gems of China, and they have a responsibility to let more people know that this craftsmanship is well protected in Hong Kong.
In recent years, there has been an increase in the number of young apprentices who have come to the Yuet Tung China Works to learn the craft.
"In the past three years, we have had approximately 2,000 students participating in our interest classes," said Ruby Tso. "We will persist in running our business and help Guangcai to continue to shine in Hong Kong."