A miniature of 'East-meets-West' eclecticism
Share - WeChat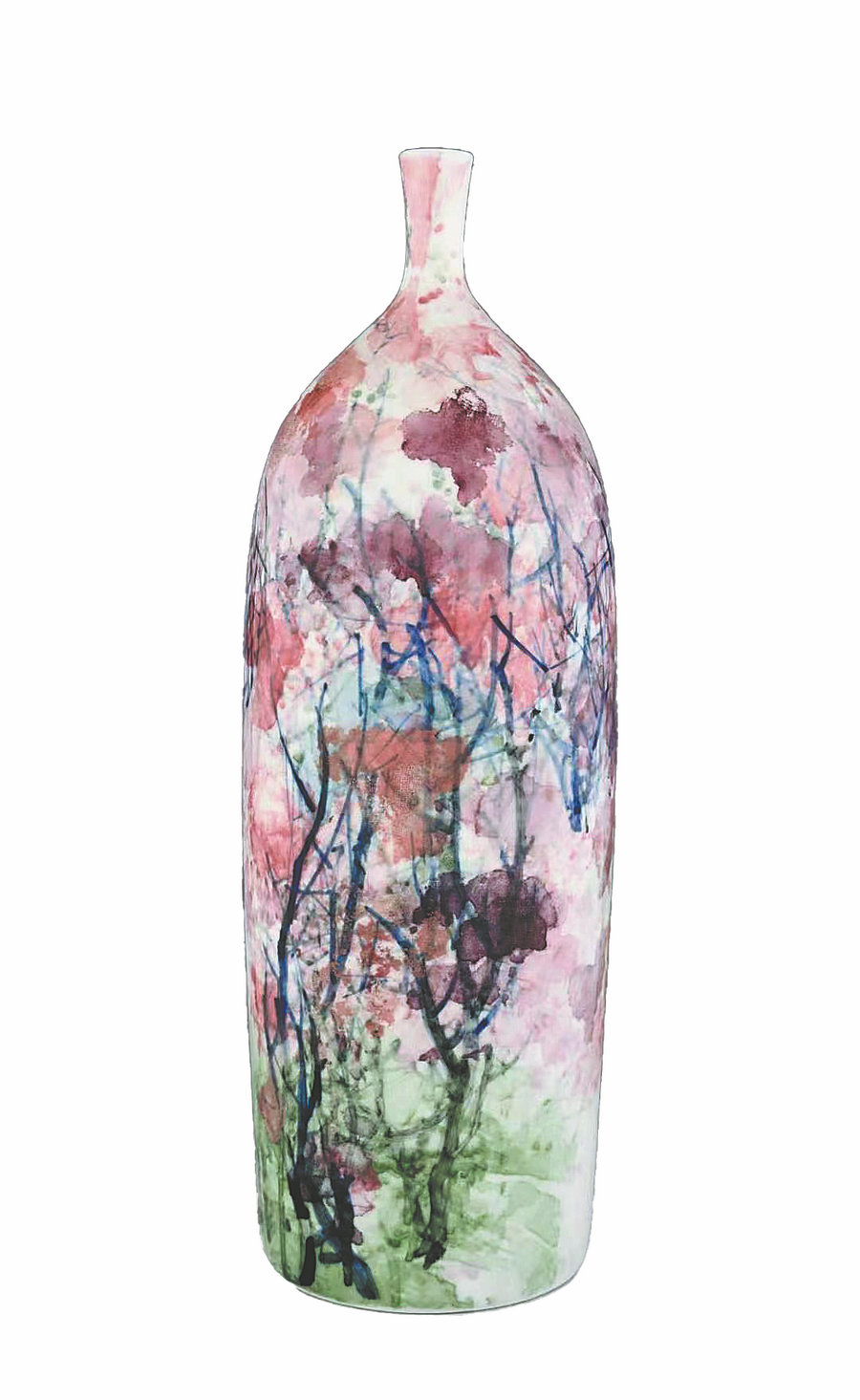 Zeitgeisty art on porcelain
The "juxtaposition of East and West" is a common thread in Chai's art, becoming her signature theme, while the medium for communicating the eclectic idea is not confined to paper. Transcending the utility and ornamental purpose, porcelain, to her, is an immaculate alternative to canvas paper amplifying the "East-meets-West" ethos, and a clean sheet for her artistic flair to be awakened afresh.
Nevertheless, it's far from straightforward to translate the brushstroke techniques employed in painting onto the slick three-dimensional canvas — ceramics — because it takes repetitive firing and drying in the kiln, during which myriad colors are applied layer by layer. How the colors interact with each other and make their presence felt hinges on the temperature of firing, the humidity of the ceramic surface and, of course, the artist's sensibility to hues and command of the paintbrush.
It's a herculean feat to choreograph the movement of colors to achieve the intended effect. For example, Chai explains, if the surface is too damp, colors will muddle together in a blur. If it's left to dry for too long, each pigment will stick to the parched surface in isolation, with contours rigidly defined, where the subtlety and fluidity embodied in impressionism are lost.
Everything has to be "just right" in the art of porcelain painting, she insists. It's quite an art of "accuracy" and "precision".Her ceramic canvas is from Liling — a county-level city in Hunan province.
What sets Liling porcelain apart from those from other regions or countries is its pristine purity and immaculate slickness. Cradling a dainty teacup molded out of Liling ceramics, and swirling it gently under a beam of light, like a wine connoisseur swiveling the goblet to gauge the tipple's quality, Chai explains. "Look at the translucent, almost see-through body. You can barely spot any blemish or minute dent," she says.
The abundance of assorted natural minerals in Liling is a rich seam to mine for porcelain painting as they provide a palette of vivid colors. Moreover, the paints sourced from the local natural minerals are edible, Chai says, making them safe for domestic use.
Liling, famed as one of China's three "ceramic capitals", along with Jingdezhen in Jiangxi province and Dehua county in Fujian province, boasts a 2,000-year history in ceramic production. While Jingdezhen might be synonymous with Chinese ceramics, Chai notes that Liling porcelain ware is a contemporary representation, omnipresent in the Great Hall of the People in Beijing.