A miniature of 'East-meets-West' eclecticism
Share - WeChat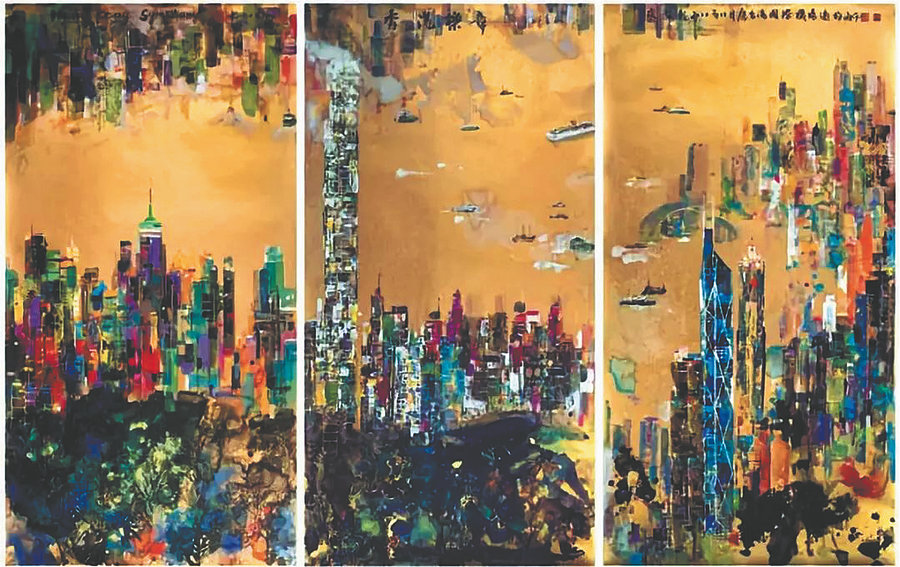 Waxing lyrical about her artistic experiments by blending the essence of traditional Chinese painting with the Western impressionist genre, Hong Kong-based Chinese artist Kuku Chai Bu-kuk walks her students through a mesmerizing artistic odyssey in her austere-looking studio in North Point on Hong Kong Island.
She dismantles the artistic language that defines her signature style, layer by layer, until it's cut to the pith — "zeitgeist" and "East-meets-West" — a tribute to the special administrative region's art and culture.
Arriving in the "Pearl of the Orient" by air, you may not immediately run into the city's energetic cadence and tempo of its hustle and bustle. You're likely to be greeted by a "Hong Kong Symphony" — a giant wall of paintings at Terminal 1 of Hong Kong International Airport, framed in LED panels, capturing the glitz of the city's dense forest of skyscrapers, the glimmer of its landmark Victoria Harbour, and the giddiness of the cosmopolitan temperament from a bird's-eye view.
The high-rise buildings towering in geometric color block forms and the strikingly detailed cruises dotted on the water like music notes offer you a sneak peek into the city's life — snappy, go-getting, and pulsating with vitality and a serious agenda. The brainchild of Chai, inspired by ink and watercolor paintings, as well as monotyping, is an apt showcase of the realistic and futuristic Hong Kong and a crossover of the inherent Chinese culture and Western influences. It isn't an overstatement to suggest that the well-orchestrated eclecticism radiating through Chai's paintings is a reflection of Hong Kong's kaleidoscopic culture writ large.
Chai, an arts consultant with the Hong Kong Arts Development Council and director of the China Artists Association, has left the footprints of her works — paintings on paper or porcelain — across the globe through exhibitions, auctions and collections. Her works have become a permanent collection at the Hong Kong Special Administrative Region's government London office, China International Fund Ltd and Tokyo-based Oji Paper Group. Former HKSAR chief executive Tung Chee-hwa collected Chai's works as well, with her work depicting Hong Kong's cityscape in gilded hues on display at Government House in Central — the official residence of the HKSAR's chief executive.
By any stretch, Chai's works are the face of Hong Kong's art and cultural resume. The wanderlust nature of her artistic pursuits and the expansive reach of her artworks embody the SAR's cultural influence on a global setting.