Digital economy seen as key to common prosperity
Share - WeChat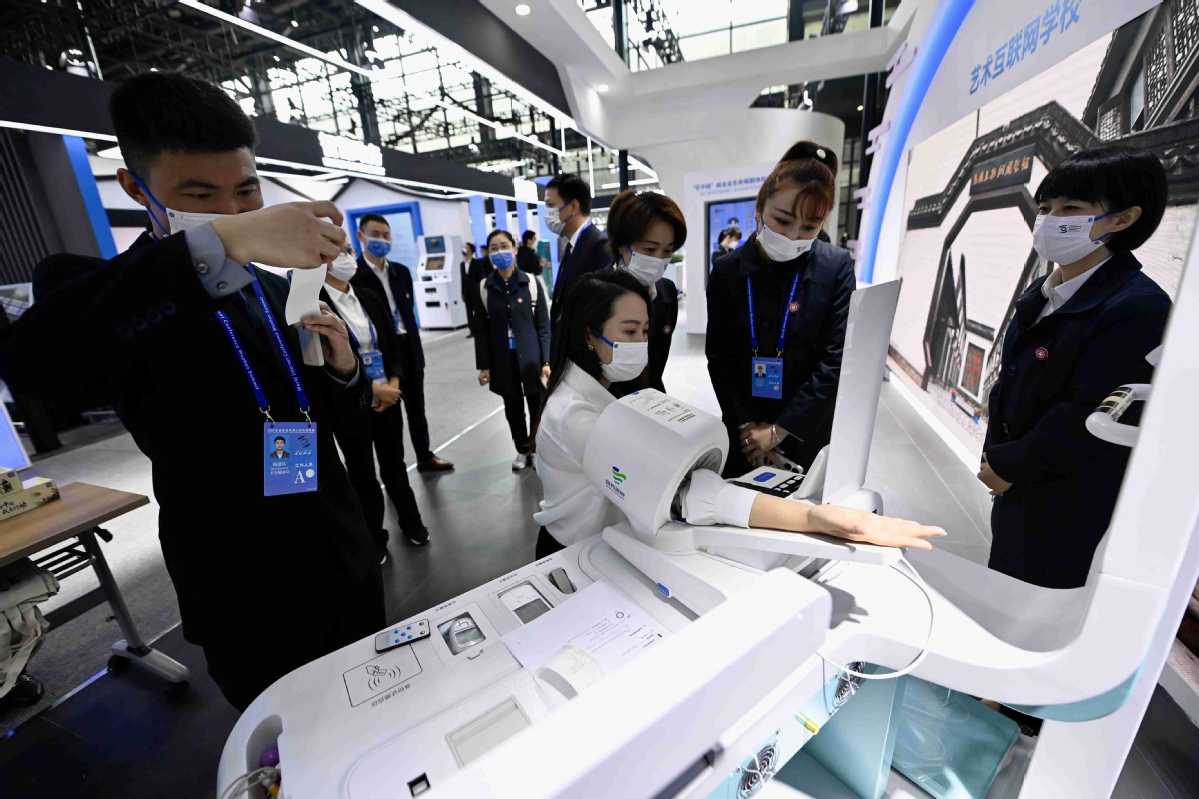 East China's Zhejiang province is showcasing its various experiences and achievements as a digital economy powerhouse during the 2022 World Internet Conference Wuzhen Summit, which takes place from Wednesday to Friday.
It is hoped that Zhejiang's digital reform will play a more significant role in the country's development of the internet economy, Cao Shumin, deputy head of the Cyberspace Administration of China, said at a forum on Tuesday in Wuzhen.
"China is pursuing common prosperity as its ultimate development goal. Zhejiang has deeply integrated the digital economy with the real economy. Digital technologies are widely applied in different sectors and play a comprehensive role. Many traditional industries in the province are shifting toward digitalization," Cao said.
The province currently boasts the smallest urban-rural income divide nationwide, and it has been vigorously building digital infrastructure in rural areas over the past few years. The annual incomes of both urban and rural residents in Zhejiang ranked tops in China for 21 and 37 years in a row, respectively, according to the most recent data from the local government.
Hangzhou-based Alibaba Group said that as a private enterprise in Zhejiang, it has more than 800 million users and a large number of customers who operate businesses on its online platforms. The company said it is its strategy and social responsibility to help promote China's goal of achieving common prosperity.
"The digital economy is inclusive, social and flexible. For instance, people with disabilities can start their own businesses online, and many counties in China have traded their agricultural products online and become better off," Wen Jia, vice-president of public affairs at Alibaba Group, said in Wuzhen.
The digital economy in Zhejiang has become one of the main engines driving its economic growth. For example, Tongxiang, Zhejiang, has more than 2,800 registered companies engaged in businesses related to the digital economy, with the number up from some 350 related companies in 2014, according to the local government.
In the first three quarters, the output value of digital manufacturing for enterprises above a designated scale in Tongxiang reached 18.44 billion yuan ($2.5 billion), up 11.6 percent year-on-year. During the period, new investment related to digital manufacturing in the city reached 3.4 billion yuan, surging 80.5 percent year-on-year, according to the local government.
In the past few years, Tongxiang has integrated 5G, the internet of things, big data and artificial intelligence with traditional industries, and reaped fruitful results, said the China Academy of Rural Development of Zhejiang University.