Roger Federer bids farewell alongside Nadal in last match
Share - WeChat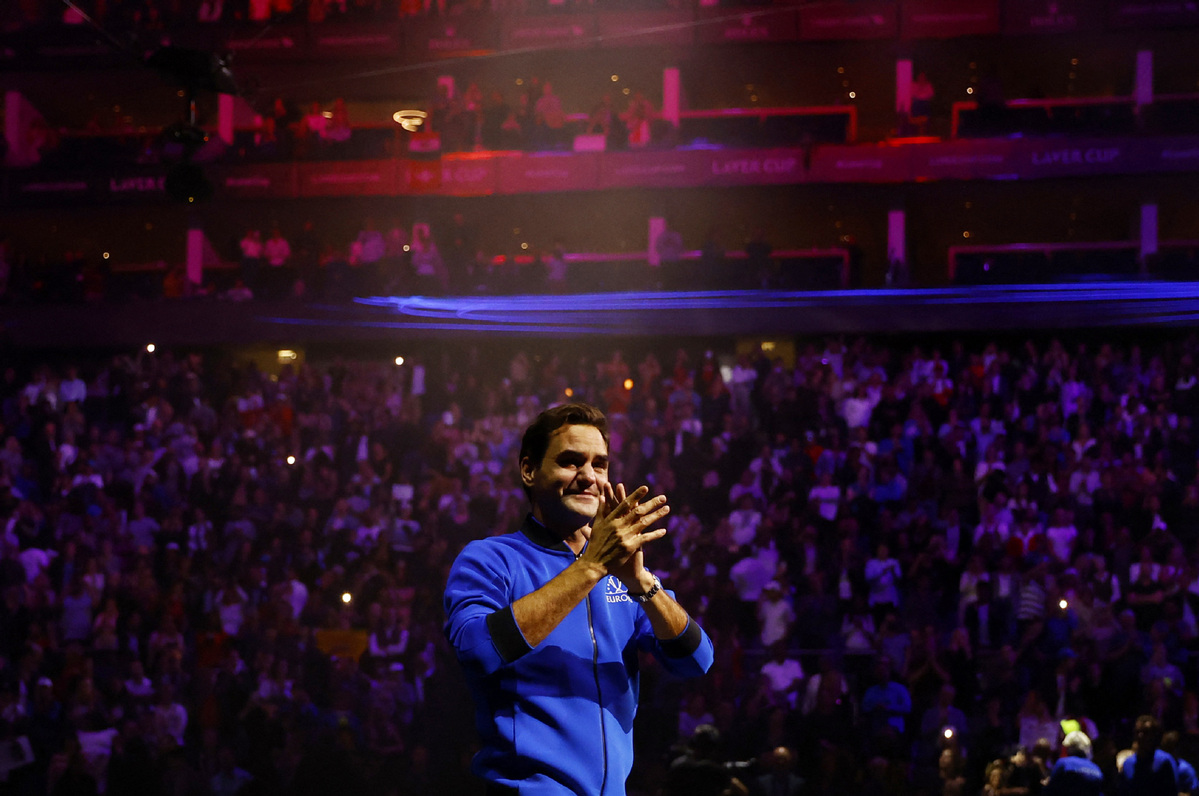 One key difference: Each time Williams took the court in New York, the looming question was how long her stay would endure — a "win or this is it" prospect. Friday WAS it for Federer, no matter the result.
The Laver Cup, which is in its fifth edition, was founded by Federer's management company and uses a format quite different from a standard tournament. So a victory for him and Nadal would not mean advancing to another round.
"All the players," Ruud said, "will miss him." "Roger is a unicorn in our sport," Tsitsipas said this week. "He has all my respect, all my appreciation for what he has offered to tennis today. It's something that, for sure, is not going to be forgotten for thousands of years. He has that charisma and purity and aura about him that made him kind of invincible when he was on the court."

Tiafoe's take on Federer was similar: "I don't think we'll see another guy like Roger, the way he played, and the grace he did it with, and who he is as an individual."

The last hurrah comes after a total of 103 tour-level titles on Federer's substantial resume and 1,251 wins in singles matches, both second only to Jimmy Connors in the Open era, which began in 1968.

Federer's records include being the oldest No. 1 in ATP rankings history — he returned to the top spot at 36 in 2018 — and most consecutive weeks there (his total weeks mark was eclipsed by Novak Djokovic). At the height of his powers, Federer appeared in a record 10 consecutive Grand Slam finals, winning eight, from 2005-07. Trace it out to 2010 and he reached 18 of 19 major finals.
More than the numbers, folks will remember that powerful forehand, one-handed backhand and flawless footwork, a spectacularly effective serve and eagerness to get to the net, a willingness to reinvent aspects of his game and — the part he's proudest of — unusual longevity. Then, too, there is his persona away from the court.
All of which is part of why the truth Friday was that the eventual winner of Federer-Nadal vs. Tiafoe-Sock, the score, the statistics — none of that would matter, was all so entirely beside the point. The day was, after all, about the farewell itself. Or, better, the farewells: Federer's to tennis, to the fans, to his colleagues. And, naturally, each of those entities' farewells to Federer.
AP