Planters branch out into cultural tourism
Share - WeChat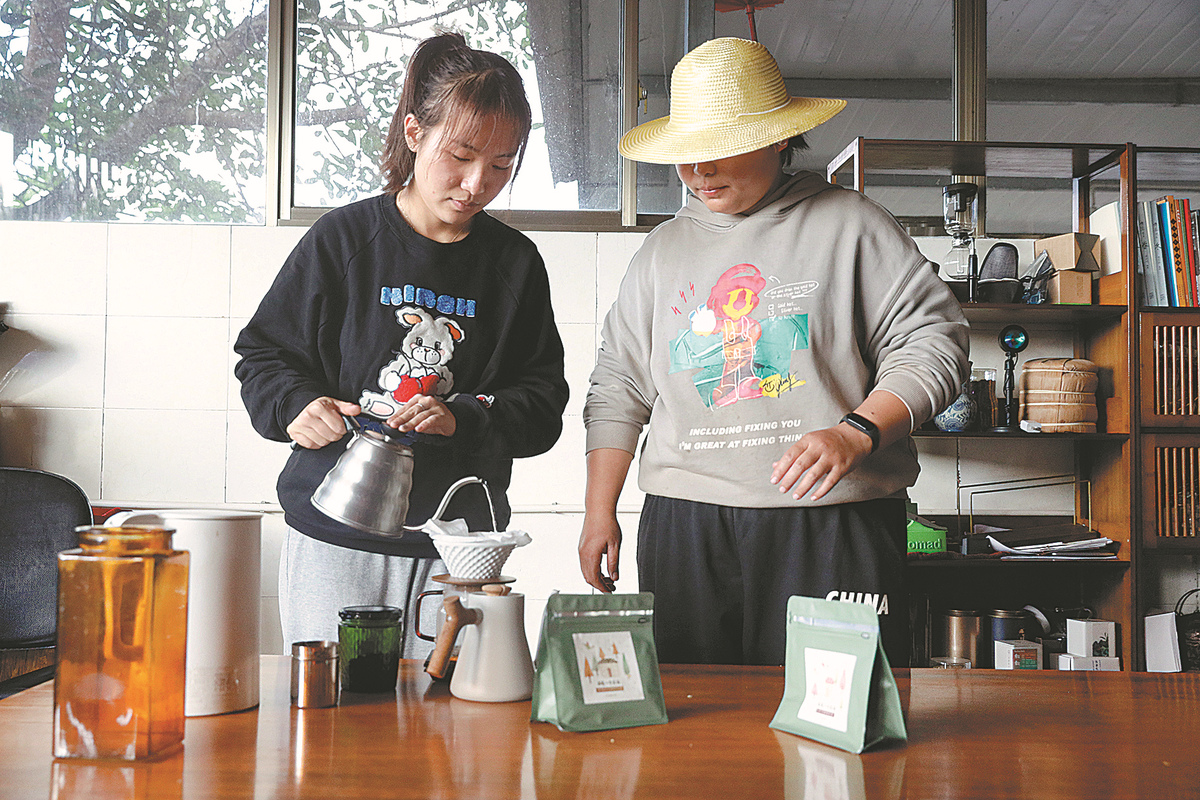 Liao Xiugui is the owner of a local coffee plantation in Pu'er, Yunnan province. Since last year, more than 20,000 coffee lovers have visited him, and his business has expanded from coffee trading to hosting leisure activities and facilitating research.
"Besides outdoor camping and barbecues, we provide the venue to coffee training institutions and teams of scientists for teaching and training, conducting experiments and holding educational events," Liao said.
Like Liao, many individual coffee planters in Yunnan have developed derivative businesses and travel products related to coffee.
By 2024, Yunnan aims to build five premium tourism venues based on coffee culture, in addition to building more than 10 premium coffee plantations and more than 30 coffee-themed bed-and-breakfasts, according to a statement released by the Yunnan provincial government in early August.
The guideline said Yunnan will speed up the development of coffee-themed cultural products and other related experiences, relying on boutique coffee manors in Pu'er, Baoshan, Lincang, Xishuangbanna Dai autonomous prefecture and other locations.
"The local government regards the development of the coffee sector as important, and the province has the power to set the tone for the sector, given its significant output volume," said Li Xiaobo, chairman of the Coffee Association of Yunnan.
"The negative impact of COVID-19 on the domestic coffee-planting sector is minor. More and more Chinese consumers are seeing beans produced in Yunnan, and farmers have directly benefited from the trend," he said.
The coffee planting area in Pu'er, a major coffee growing region in Yunnan, is 44,800 hectares, accounting for 48 percent of the total in the province. The city has become a main coffee trade and distribution center in China, providing high-quality beans and a high annual output volume. There are more than 200,000 farmers in the surrounding areas involved in planting work, according to the local government.
The popularity of the film Coffee or Tea, shot in 2020 about three young urbanites who travel to a Yunnan village to start an e-commerce business, has paved the way for Pu'er to establish more coffee-related travel destinations attracting tourists.
The Pu'er local government has pushed forward the building of coffee-themed cultural and creative markets and products, creating new formats and venues for travelers.
The first coffee-themed tourism and leisure area in the province is expected to open in Pu'er in September. It will integrate the display of raw coffee beans, the baking, processing and grinding of beans, coffee brewing and other aspects of the region's rich cultural heritage.
Meanwhile, the city is encouraging distinguished coffee brands to launch their products in public spaces such as hotels and libraries and set up showcasing areas to further boost coffee consumption.
Baoshan Bestain Coffee Co Ltd, a coffee trader based in Baoshan, Yunnan, upgraded the company's processing base and launched a coffee-themed cultural park in Baoshan. The park-which combines the planting and processing of beans and the display of products-has been rated as a 3A-level scenic spot. Bookstores and cafes have also been established inside.
"Next, we plan to further promote the building of another premium coffee cultural park in Baoshan, and integrate traditional Dai ethnic culture into it. The park will proudly display Chinese coffee culture, and contribute to rural revitalization," said Li Lihong, founder and president of Baoshan Bestain Coffee.
"We should further develop a comprehensive industrial chain and leverage our unique advantages. By focusing on the planting and processing of premium coffee beans, and developing coffee-themed culture and travel products, we plan to build a unique coffee tourism town," she said.